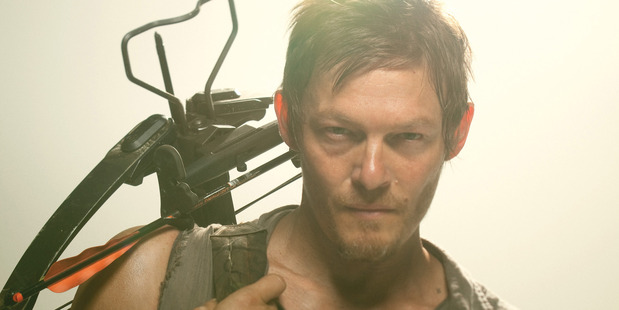 How does a TV show about a band of humans battling for survival against the zombie apocalypse come to be regarded as family fare and break records in the US for the most-viewed cable television drama?
The Walking Dead's Season 3 showrunner, Glen Mazzara, thinks the wide popularity of the series - it's shown in 122 countries - has a lot to do with its appeal to the audience's most basic and primeval instincts.
"In our show we have reduced society to the smallest unit - the individual, the family, the tribe," Mazzara tells AAP from Los Angeles.
"So people buy into it - every life is precious, everybody can contribute - and I think the audience puts themselves in the shoes of the characters."
This appeal to the "everyman" provides some interesting moral questions for the show's audience, Mazzara says.
"Would you shoot this guy and feed him to the zombies so you could get away? Would you do it so that your wife could get away?
"You know that's an interesting dilemma, and I think people are excited about that."
At the helm of the show since the departure of its creator, Frank Darabont, Mazzara says it has its challenges, especially keeping the storyline plausible.
"People when they watch our show are on the edge of their seat because it feels believable," he says.
"So I try not to let the mythology get too complicated, I try not to let the backstory get too complicated, I try to pose very simple real-time puzzles or problems for our characters."
Although The Walking Dead is based on a comic book series that has been enormously popular in its own right, the TV show has departed from its source material in a number of ways.
Mazzara says it's all been done with the blessing of the comic book writer Robert Kirkman.
"We get to pick and choose what we like, what we use, we never change the story just for the sake of changing it," he says.
"We are trying to lay out the best told story ahead of us and we feel it's our job to make sure we're staying true to the spirit of the graphic novel, not necessarily letter-for-letter."
One of the departures from the comic book series is the inclusion of Daryl Dixon, a crossbow-wielding redneck whose prickly, laconic character belies his inner loyalty to the misfit band of survivors he's joined.
Actor Norman Reedus originally read for the part of Merle Dixon but that part was given to Michael Rooker.
Reedus, recently in Australia to promote the return of Season 3, says he was puzzled when Darabont got him to come in and read again.
"I was thinking maybe Michael Rooker couldn't do it, I didn't know what was going on," he says.
"About an hour after I left there I got a call saying that Frank Darabont wrote a new part."
Reedus says he has a lot in common with his character.
"We're both socially awkward, we wear our hearts on our sleeves, we're both loyal, we both sort of let someone else speak first and sort of suss 'em out, we mean what we say."
The Walking Dead has followed a band of characters on their journey of survival, with central characters suffering and often dying along the way.
The mid-season finale saw one group directly at odds with another and while there are few hints about what to expect for the upcoming shows, Mazzara says it'll continue to keep the fast pace audiences have come to expect.
"I see it as the coming battle between these different groups and people are going to have to decide where they are and where their alliances lie," he says.
Reedus says there is a lot of action ahead.
"There's a lot of people stepping on each other's toes and a lot of who do you trust, starting to distrust the person you trusted next to you, and there's a full-blown war happening."
- AAP