Actor James Van Der Beek proves he can take a joke, playing a heightened version of himself in a new off-beat sitcom.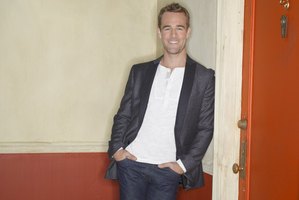 It's not the first time an actor has played a version of himself - Matt LeBlanc in hit series Episodes, Steve Coogan and Rob Brydon in The Trip, Jean-Claude Van Damme in JCVD, Larry David in Curb Your Enthusiasm, Woody Allen in most of his films.
Now James Van Der Beek can be added to the list, playing an exaggerated version of himself - a former teen idol, washed up and floundering - in new off-beat TV comedy Don't Trust the B**** in Apartment 23.
While playing Dawson Leery in popular late 90s teen TV show Dawson's Creek was certainly good for Van Der Beek's popularity and reputation, he's also been ridiculed for the role, particularly for his array of emotional expressions as Dawson.
And though he's had plenty of other film and TV roles since, Dawson has always been the character people most heavily associate him with. Fortunately, Van Der Beek has always had a sense of humour about it, and in 2010 he even made a bunch of videos parodying himself which were posted on his own website and also on comedy video website Funny or Die.
These were the videos that inspired the producers of DTTBIA23 to approach Van Der Beek when they were looking for a star to make fun of.
"My agent called and pitched it to me - 'It's created by Nahnatchka Khan who's worked on American Dad with Seth MacFarlane, you'd be directed by Jason Winer who directed the Modern Family pilot', and I said, 'Wow, yes, it sounds amazing, what's the catch?' And he said 'Well, they want you to play a version of yourself'. But I met with them, and we laughed for about 45 minutes, and it took me no time at all to say yes."
The fast-paced, self-aware comedy revolves around two young women: small-town girl June (played by Dreama Walker from The Good Wife) who moves to Manhattan chasing her dream job, and finds the company she was going to work for has collapsed. She moves in with Chloe (Krysten Ritter from Breaking Bad) who seems charming and vivacious at first, but turns out to be the conniving bitch of the title - though one who's also a loyal friend.
Van Der Beek plays a close friend of Chloe's, and acts as a sensible down-to-earth pal, except that he's loaded and a little hung up on re-establishing his fame.
"The two girls are the heart and soul of the show, and I'm the comic relief in a comedy. For all intents and purposes I'm the wacky neighbour, and I've never done that before. I'm usually playing the moral centre, giving the audience a window into a world, and there are certain boundaries that you have to mind when you're playing that sort of role or you lose the audience.
"I don't have that problem with this job, I have a really long leash and we're having fun seeing how far we can stretch it."
While Walker and Ritter are obviously not playing themselves, Van Der Beek does admit that they too resemble their characters in some respects.
"They do, but in the best ways. They're also functional human beings who you'd actually want to know in real life. Krysten is no-nonsense, she just owns it, she's got that confidence, and she's got a great dry, sharp sense of humour, and Dreama is a really sweet, optimistic girl who means so well, and wants the best for everybody. Everybody is very well cast."
Van Der Beek mostly feels like he's playing a character too - the scripts are still written for him, and though he occasionally contributes ideas, improvisation isn't widely used.
"It's so far removed from my daily life, that I don't really think of it as me - it feels like a character I would do at parties for fun. After they cast me, they kind of re-wrote the role and tweaked it to fit me, and I pitched some ideas here and there. But now the writers just run with it! And we have fun making up things that don't exist on my resume."
So he's never tried to teach an acting class at university, or performed Shakespeare at a coffee shop, as happens when the fake James is looking for new avenues for his talent.
"Nope, those are both firsts for me! And later in the season the fake me goes on fake Dancing with the Stars. That was completely ridiculous and a lot of fun ... There's definitely sequins, definitely funny shoes."
Former TV stars also appear playing themselves - Kevin Sorbo and Dean Cain for example - and in season two the fake James even starts contemplating the possibility of a Dawson's Creek reunion. It's not something Van Der Beek is serious about though - he's enjoying the opportunity to play smaller guest roles, and take on quirky projects like DTTBIA23.
"I'm happy with where life has taken me, I'm married with two kids, which is great fun, so that's what daily life is about for me. I'm very happy to have this job where I can just come in and goof off ... It's good people, good writing, and I get to be ridiculous!"
Who: James Van Der Beek
What: New TV series Don't Trust the B**** in Apartment 23
Where and when: Starts Tuesday October 9, at 9pm on Four
- TimeOut