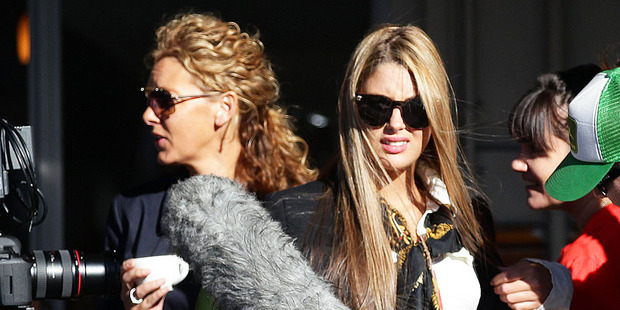 There's bad news for the promoters of a proposed Sally Ridge reality TV show - it seems the majority of New Zealand wouldn't touch the Keeping Up With The Ridges show with a barge pole.
In excess of 16,000 people responded to a nzherald.co.nz online poll that asked "Would you watch a reality show starring Sally Ridge?" - and the results are revealing.
The results were 14,157 votes for "No way!", 1107 for "Maybe - It's gotta be better than The GC, right?" and 873 votes for "Yes - It would be trash-tastic".
As well, more than a dozen people emailed the Herald on Sunday's Spy magazine directly with comments on the Ridge show possibility, and not one was positive.
In fact, it was difficult to find many to print, but here's a selection:
"I do not want to see a Ridge family show and will certainly not look at it if it screens. I am sick of these pseudo celebrities. I am also sick of seeing them in your paper.
If they are going into TV, some elocution lessons will be needed. What does SPQR stand for? Is it Shallow-minded Ponsonby Queers & Ratbags?" said Judith Parlane.
"I have never sent an email about a programme before but I feel outraged that TV3 would waste money making an absolutely rubbish programme which is all staged.
"Who do Sally and Jaime think they are. I feel very sorry for the two sons as all the attention is on Jaime. In the latest New Idea the headline is Me and My Girls. Sally doesn't seem to want to grow up and wants to hang out with her daughter," wrote Linda.
"A Ridge reality show - well, it probably wouldn't be any worse than the Chawner show (the Big Fat Family)," said Anne.
"Out in the hinterland of NZ I must say I am disgusted to think anyone would waste good money to make a reality show on the Ridge pair. I am sure there are far more worthy folk out there doing good for society who would make a better subject for a reality show," wrote Heather Hodges.
The chances of TV3 listening appear slim. A TV3 insider said the pilot was completed this week and was viewed on Friday.
A decision is expected soon and it appears a greenlight is imminent as the insider said TV3 bosses felt "people will be very surprised at how likable Sally and Jaime are".
- Herald on Sunday/Spy