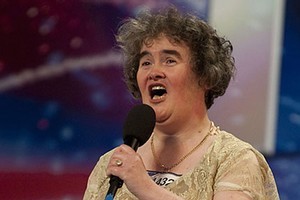 Does New Zealand have its very own Susan Boyle lurking undiscovered in a small town somewhere?
A local version of Simon Cowell's hit talent show Britain's Got Talent hopes to find out.
TVNZ announced today that New Zealand's Got Talent is "in the early stages" of production and will screen on TV One.
It's the second version of Cowell's talent quest to be made in New Zealand, following a 2008 version that screened on Prime TV and was won by 16-year-old dancer Chaz Cummings.
NZ On Air has commited to $1.6 million in funding to the new show and chief executive Jane Wrightson called it a "wonderful opportunity" for Kiwi entertainers.
Head of TV One and TV2 Jeff Latch said the show would have "great production values".
"TV One is the natural home of big, local and entertaining shows and New Zealand's Got Talent is a perfect fit, appealing to Kiwis of all ages," he said.
"This particular show is the biggest brand in its genre in the world and we are tremendously excited to have the opportunity to provide a platform for New Zealand performers."
Boyle was the runner-up in season three of Britain's Got Talent, after losing to dance group Diversity.
She become a world-wide star after her soaring version of I Dreamed a Dream became a YouTube hit.
- Herald online