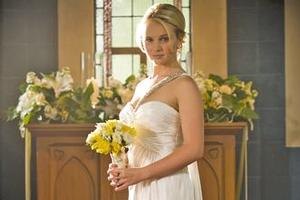 When it comes to Shortland Street's upcoming nuptials, the old folks definitely don't approve. Not long out of her school uniform, fresh young thing Sophie McKay, just 18, is set to wed Brit bad-boy and bar proprietor Kieran Mitchell, whose numerous shady sidelines have spanned drug-dealer, money-launderer, pimp and fraudster.
Add that to the decade or so he has on Sophie and it's little wonder her mother, grandmother and brother Hunter, who have tried time and again to break them up, all look like ceremony no-shows. Sophie's father, clinic CEO Callum, has deep reservations too, but he has agreed to give her away. But next week, as the big day looms, the groom's web of lies threatens to unravel.
Providing the Christmas cliffhanger's requisite fatality, Kieran accidentally ran over show sweetheart Morgan while pursuing brother Sid (who was off to burn down the bar). Seeing all he could lose - his fiancee, freedom, business, residency - flash before his eyes, Kieran framed alcoholic Rachel, who was in a drunken stupor in the back, by pulling her into the driver's seat. Waking up with one big memory blank and a dented car, Rachel confessed to the crime and was arrested.
Since then, Kieran's been eaten up with guilt, behaving weirdly and giving too many clues. As he said to confidante Sid: "I'm hanging on to Sophie by a thread."
Little does he know that ex-fiancee Libby has smelled a rat. What will she uncover? Will Kieran tell Sophie "I do" or "I did it"? We can't spill the beans, but we can reveal that Titirangi, Auckland residents noticed a fracas outside a local church during filming.
Although Kimberley Crossman, who plays Sophie, and Adam Rickitt (Kieran) are staying tight-lipped, they do drop a few hints. Says Rickitt: "With any soap wedding, something's going to go wrong. Or at least slightly awry, in true Shortland Street tradition."
Remember, back in the day, when evil Darryl drugged Chris and locked him in a barn, leaving Alison alone at the altar? Unlikely lovers Kirsty and Lionel were about to become man and wife when Stuart ran in and declared his love for the bride. At ditzy Waverley's wedding, the police chased off bad-boy Fergus; and mad Jack Hewitt once tried to force Rachel into a mock wedding until Chris arrived in the nick of time. Whatever the outcome, Shortland Street's youngest bride is arguably its most beautiful, in her Grecian-style wedding dress with bejewelled neckpiece.
At 21-and-a-half, Crossman, who recently won best actress and hottest female at the unofficial Shortland St Fan Awards, enjoyed playing dress-ups for the day. "The dress was beautiful but something I personally wouldn't wear, so it kept that separation between reality and fantasy," she says.
But saying "I do" to a colleague was never going to be just another day at the office. "I thought `oh yeah, no big deal'. But it was weird, actually _ I didn't realise how weird until I was walking down the aisle with Peter [Mochrie], whom I see as a paternal figure anyway. It felt real for a moment, and I burst into tears, so we had to go again."
Rickitt also found the experience a tad weird. He'd gotten hitched before, while playing Nick Tilsley on Coronation Street. "A registry office wasn't as bad, but a church is kind of freaky," says the 31-year-old. "But forget about me - poor Kimberley wasn't allowed to sit down because the dress couldn't get creased, and these heels that were bigger than the Eiffel Tower ... "
"It wasn't that bad," Crossman pipes up. "Well, I say that now, but at the time I just wanted to sit down!"
The pair have gotten to know each other better since their scripts intersected. "It can be ships passing in the dark in this building," says Crossman, who was initially surprised to find Sophie's new love interest was a much older pint-puller (not to mention, in this incestuous soap world, her onscreen dad's girlfriend's ex). But the frowned-upon engagement was a shrewd way to mark Sophie's transition from indulged daughter into fully fledged adulthood - without making the wannabe journalist a third receptionist.
In real life, both are off the market. Rickitt's happily hooked up with his hotelier girlfriend, while Crossman's been going out with ZM DJ Mark Dye for a year-and-a-half. But while the soap's super sped-up storylines saw Sophie go from single schoolgirl to blushing bride in just a couple of months, Crossman's not contemplating her own white dress yet.
"I'd love to get married one day but I don't think that day's close for me ... I'm only at the beginning of my career."
A quickie wedding, though, is something Rickitt wouldn't rule out. "I think it [love] can happen within a day. I really genuinely believe that when you find your soulmate, you find your soulmate. If you're lucky enough to start off being married to them, all the better."
Although thrice-engaged Kieran treats proposals like band-aids, Rickitt's convinced this isn't one more time around the block for his character. "Kieran's with someone whose innocence and purity he completely adores and he'd pull out his own teeth to protect her." Rickitt's also surprisingly vehement that Sophie's better for Kieran than former flame Libby. "I think Libby was a f*** bitch when they were going out!" Come on, he deserved it. "No, he didn't always," he counters cheerfully. "Libby wanted things from Kieran - her white picket fence - whereas Sophie's just in love with him, which makes him feel so vulnerable."
Conjuring up Kieran's guilt, fear, isolation, shame, panic and lies, Rickitt's had plenty of scope to flex his acting muscles recently. "I was only going to be here for three months and now it's been three years," says Shortland Street's biggest international "get", "because we've been able to grow Kieran and show these different sides to him." But surely Kieran, who's been beaten, blackmailed, tortured, arrested and very nearly jailed, has used up his nine lives by now. "No, God no!" Rickitt declares. "Kieran's like a cockroach. He'll survive a nuclear war." As he talks about Kieran, there's more than a hint of protectiveness. Rickitt agrees. "When you invest yourself in anything you do, whether that's plucking chickens or acting, you become protective and take pride in it. I love my character."
And the viewers love him back. Rickitt, who picked up favourite male actor at the soap's fan awards, is plied with praise on Shortland Street's website by the likes of "Kisses - 4 - Kieran". The online message boards are currently crammed with contemplations on how Kieran could possibly get out of this latest predicament.
Should Kieran get caught, you'd think it'd be hard for the show to redeem a killer, but look at Maia, who got away with shooting Ethan in cold blood. As "Kisses - 4 - Kieran" astutely points out: "They somehow have to get Kieran off the hook without making it seem unrealistic so Adam can stay ..." Some fans suggest perhaps Kieran only thinks he hit Morgan.
Wishful thinking? Will Sophie and Kieran sidestep the Shortland Street wedding curse en route to wedded bliss? With this show, you never can tell.
* Shortland Street screens on TV2, weeknights at 7pm.