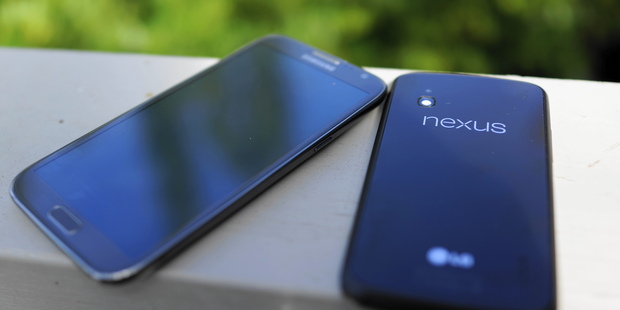 Google's Android has come a long way over the years and has overtaken Apple's iOS as the best-selling mobile operating system and app environment in the world even.
There's a huge range of Android phones in stores at the moment, ranging from el-cheapo models that cost $200-$300 to pricey devices that cost well over a thousand dollars so you're spoilt for choice.

Two of the more interesting Android phones vying for consumers' attention come from Google (via LG) and Samsung. How do the Korean-made devices stack up?
Google - LG Nexus 4
If you're an Android purist, then this is arguably the phone for you. The Google-LG Nexus 4 provides a pure Android experience with no vendor customised shells or skins in the way. It's also a fresh experience, as the Nexus 4 comes with Android 4.2.1 "Jelly Bean" which for now is the latest and greatest version there is.
LG built Google a nice, slim device, of high quality with discreet looks and a fantastic high resolution screen with 1,280 by 768 pixels and 332 pixels per inch density. It's 4.7 inches diagonally, and the Nexus 4 most definitely isn't a phablet, measuring a mere 134 by 69mm and being just 9mm thick.
The Nexus 4 is also fast with a 1.5GHz four-core processor, 2GB RAM and 16GB storage. You can't expand the storage however, or swap out the 2,100mAh battery that lasts well over a day with normal use.
Even though camera offers a decent 8Mpixel resolution and comes with the Photo Sphere panoramic pictures application which is fun, the actual images aren't terribly impressive. They are passable, but there are much better phone cameras out there from other vendors.
Other than that, the Nexus 4 comes with the usual range of sensors and wireless connections, including Near Field Communications and Bluetooth, and fast 3G that supports the new Dual-Channel HSPA+ standard for quick data transfers.
At $799 from 2 Degrees, the Nexus 4 is a very nice, well-priced compact smartphone that's well worth checking out for Android buyers for whom mobile photo quality isn't a key requirement.
Rating: 4/5
Contact: 2degreesmobile.co.nz
Samsung Galaxy Note II
There's a comforting feeling of having a Galaxy Note II on you, because no matter what, you know you'll have the biggest smartphone on any occasion.
Sizeable hands to operate the device are a plus but the size of the Galaxy Note II has some definite advantages. The 5.5 inch 1,280 by 720 screen is bright and great for Internet content, videos and pictures; it's almost big enough for two people to watch a film if they don't mind being very close to each other that is.
The Galaxy Note II is built to high standards by Samsung, which managed to use thin plastic for the shell to keep the weight down without making the phone feel flimsy.
Inside, there is a quick four-core processor, 2GB of RAM driving Android 4.1.1 with a 4.2.x update promised for NZ as well (it's being rolled out in the US at the moment). There is 16GB of storage that can be expanded if you pop off the back cover, where you'll also find the replaceable battery that has a huge 3,100mAh capacity.
The large battery means the Galaxy Note II lasts a long time - I usually went two days between charges, and used the phone a lot. All the usual sensors are included in the Galaxy Note II and it supports fast 3G data with dual-channel HSPA+ too. If you use 3G for longer periods of time, the phone can get a bit hot, unfortunately.
Now, the Galaxy Note II has a special feature: a pen. It's kind of fun and useful to be able to draw on the screen and to snip graphics free form with the pen and create handwritten notes. However, I was much happier with the 8Mpixel camera on the Galaxy Note II that takes sharp pictures with good colours and contrast.
There's no doubt that some people will find the Galaxy Note II just too big; I liked the "phablet" size myself, because it's like having a tablet that fits into your pocket.
The Galaxy Note II is available from Telecom and Vodafone at $1,050 to $1,100 but can be had for less in independent stores.
Rating: 4.5/5
Contact: samsung.co.nz