New Zealand's first Wearable Technology Picnic kicks off today and with about 25 local companies attending, organiser Benjamin O'Brien says it's the first but definitely not the last.
At 29, O'Brien is already chief executive of his own company, StretchSense, which sells Bluetooth-enabled sensors for measuring human body motions.
His passion for the wearable technology scene has sparked what he hopes will become a regular meeting, allowing wearable technology companies and fans to network and collaborate on projects.
"The idea is that people all around the world will get together in local communities and talk about wearable technology, show off their demos and just have a conversation," O'Brien said.
• Apple sets the date - iPhone 6 tipped
With products like Google Glass being released and a rumoured Apple smartwatch on the way, the industry has been getting a lot more attention and, despite being in its infancy, is growing rapidly including in New Zealand, O'Brien says.
"In New Zealand the wearable technology industry is more than embryonic. There are companies, there are people doing it, there is an awareness, but it's not mature yet. Globally it's going through the same process but on a massive scale. It's huge."
New Zealand had been successfully occupying niche markets in the wearable technology industry, however O'Brien said there needed to be collaboration and more conversations to help companies to grow.
"It's early days. There's no blockbuster companies where you can say, 'That's the one that's taken wearable technology and sold billions of dollars of product.' So you can't say it's a mature market, it's early, it's emerging.
"But I have a lot of hope because it's growing rapidly."
O'Brien said the barriers in the wearable technology industry in New Zealand were also global ones. He noted that fashion and comfort both came into play, resulting in social issues as well as technological ones.
He hoped the gathering would allow companies to share ideas and work on the issues together.
"This is the start. I hope it becomes a regular thing, I hope other people will do more industry, niche-specific meetings and get together.
"I challenge people to do that and see where it goes."
With the growth of StretchSense and its applications for rehabilitation, gaming, sports and training, O'Brien saw no reason why New Zealand couldn't continue to be a leader in the wearable technology area.
Wearable technology - technology that connects with the body - has been around for more than a century.
Many people would not consider they were already using wearable technology such as pacemakers and hearing aids. The first electronic hearing aid was invented in 1898.
Comfort zone
What: Wearable Technology gathering for businesses and the public with demonstrations of some of the technology.
When: 11am-1pm today.
Where: Mt Eden War Memorial Hall.
iWatch launch tipped
Apple will unveil a smartwatch alongside the iPhone 6 next month, according to reports.
The wearable device could use the HomeKit function on Apple's new iOS 8 operating system, potentially allowing users to control lights and garage doors wherever they are in the house.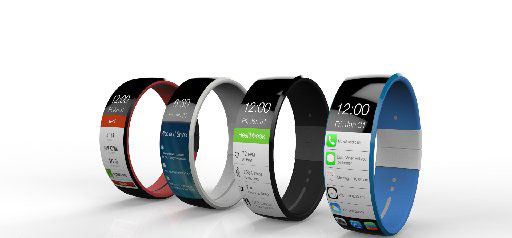 Photo / Fusechicken
The iWatch is also expected to be compatible with Apple's Health app, which collects a user's fitness and wellbeing data, such as heartrate, from multiple sources and brings it together on one screen.
The device is rumoured to feature a 2.5-inch arched rectangular display supplied by LG.
At next month's event, Apple is also expected to launch the iPhone 6, which will feature a larger 5.5in screen.
The iPhone 6 will be powered by new operating system iOS 8, which Apple unveiled at its worldwide developers conference in June.