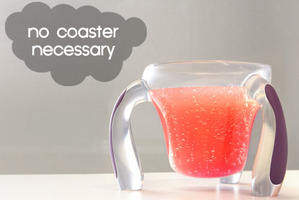 CUP IN HAND: Whether you have the shakes or are on a picnic, having a stable cup that's easy to hold yet hard to knock over and spill is a bonus. The Kangaroo Cup fits the profile. Its 11 year old inventor wanted to help her grandfather whose Parkinson's Disease meant he often spilled his drinks. She started out with mouldable prototyping plastic and iterated through several designs to come up with one that worked. Three legs that function as handles make for a stable cup, even on uneven surfaces, and also elevate the part that holds the liquid so it doesn't touch the table. That means no coaster or saucer is needed. After experimenting with ceramics, the cups are now made from BPA-free plastic, and are safe for dishwasher and microwave. These could be a huge asset in childcare facilities, rest homes, hospitals and for a day at the beach.
A SEPARATE ANSWER: Unless you remember to carry your keeper cup with you all the time if you stop to buy a coffee from a roadside vendor you'll end up throwing away the laminated paper cup it comes in.
The plastic keeps the drink warm and stops the liquid from soaking through the paper but because it's bonded to the paper the cup can't be recycled. In the UK more than 2.5 billion such paper cups end up in landfill each year. The Green Your Cup though instead lightly glues a thin plastic liner into a recyclable paper cup. The two elements easily come apart during recycling, yet as far as the person drinking the coffee is concerned the cup looks, feels and tastes the same. There's a neat solution to something that shouldn't be a problem.
THE WHEEL OF TRASH: Rubbish gets carried out to harbours by storm water. In Baltimore though they're intercepting that trash before it can get loose in the harbour, thanks to a Solar Powered Water Wheel Trash Interceptor. The water wheel includes a floating dumpster and a trash-loading conveyor system powered by water current and solar power. A floating boom funnels debris, such as logs, bottles, tires, takeaway cups and whatever else comes along to the front of the conveyor where it is scooped up by the conveyor belt before it falls into the dumpster barge. In the wheel's first 3 months of operation it collected around 59,000 Kg of debris. That's a great use for a wheel that could be copied by a great many places with harbours.
SENSIBLE TRIGGERS: Sentinl's Identilock can be attached to any gun to cover the trigger and prevent firing. Press a finger on the fingerprint reader though and if it's a registered print, the guard detaches so the gun can be fired. Multiple fingerprints can be stored, and if necessary the lock can be overridden with a key. The idea of the device is to help avoid accidental shootings, for example if a child picks up the gun, while allowing an owner quick access in an emergency. And no wearing gloves while firing the gun either.
ON THE CARDS: Press a special smartcard against someone's skin so it picks up some sweat. Then feed the card into a portable reader and find out in moments if that person has been using cocaine. That's one of the things the European LABONFOIL can do. The diagnostic system uses a portable device that reads smart cards and skin patches then sends results via WiFi to a remote computer, a tablet or smartphone. The system can already detect cocaine consumption, monitor colon cancer, identify bacteria in food and analyse environmental contamination, though other tests are planned. To identify colon cancer the card needs a few drops of blood to identify a specific protein. Each card includes a sophisticated electronic circuit and different chemical components that react to defined substances.
WALK THIS WAY: The inspiration behind the Lechal shoe was to help blind people navigate. The production version though helps everyone navigate the streets. A custom insole takes a rechargeable Lithium Polymer battery in the heel and communicates via Bluetooth with a smartphone. Set a destination on the phone, then the insole vibrates to indicate the direction to choose. The app and insoles can also count steps and track calories, point out tourist sites and alert you if you've left your phone behind. Excuse me, your shoes are buzzing.
Miraz Jordan, knowit.co.nz