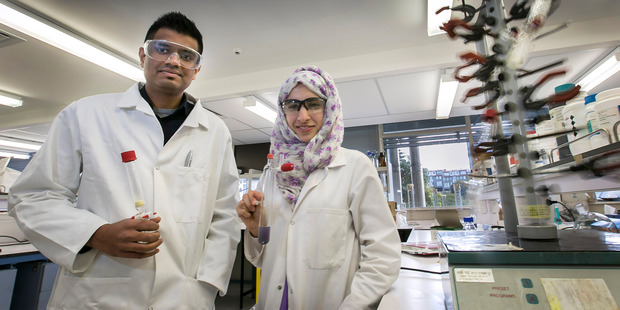 Research into antimicrobial peptides that could become a new tool in the fight against the kiwifruit disease PSA and work aimed at helping creating a "hydrogen economy" will be among more than 100 projects showcased by Auckland University students tomorrow.
In its sixth year, the University of Auckland's School of Chemical Sciences Research Showcase features 110 PhD research projects in every aspect of the chemical sciences including food science, wine science, forensics and biochemistry.
One, using water-splitting as a means of producing hydrogen as a green fuel, was aimed at the possibility of a "hydrogen economy".
"That is the dream anyway," said student Zakiya Al-Azri, who is investigating the concept.
"Along with wind and solar, hydrogen should be one of our fuels of the future because it's abundant and environmentally friendly," Ms Al-Azri said.
Gayan De Zoysa's research into antimicrobial peptides is aimed at avoiding what the World Health Organisation has called the "ticking time bomb" antibiotic over-use.
"The potent peptide we are testing has shown an ability to inhibit PSA growth and as a more attractive alternative to antibiotics, peptides are much safer," he said.
"The next step will be to conduct glasshouse experiments to see how effective the peptide we have developed is on the kiwifruit plant itself."
The showcase also features a mix of two-minute and 15-minute presentations by students and a guest lecture by Professor Simon Hall, Head of Massey University's institute of Fundamental Sciences.
The event will be held from 9am at the Engineering Neon Foyer tomorrow, Thursday, July 11, at Engineering Neon Foyer, Eng 1439, Building 401, 20 Symonds St.