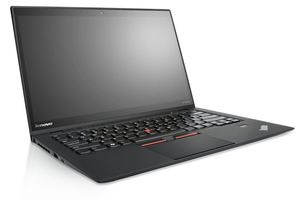 Lenovo's ThinkPad Carbon ultrabooks have attracted some positive reviews. Having spent some quality time with their latest, the X1, it isn't difficult to see why either.
Like other Lenovo ultrabooks, the Carbon X1 is built like a brick-you-know-what house. Toughness doesn't equate to it being a brick. In use it proved lighter and more petite than its industrial looks would have you believe.
Look and Feel
Being a Lenovo machine you can have it in any colour you want (as long you choose black and red). Styled after the Darth Vader school of design. I liked its no nonsense industrial looks.
A lightweight but tough design are not two things you'd normally lump together. Lenovo pulled this improbable combo off by using carbon fibre throughout the X1's body and chassis.
Given the X1's petite form factor, its roomy 14" display was a pleasant surprise. Achieving the TARDIS like feat of cramming a roomy screen into a tiny body happened thanks to the use of narrow screen bezels.
The display looks fragile, yet like the rest of the X1, it was tough as old carbon fibre boots. This is due to the X1's carbon fibre lid and a Gorilla Glass screen layer.
In Use
The X1's screen also deserves a mention. It was a crispy, bright and vivid 2,560 x 1,440 IPS LCD panel. Viewing angels were excellent as were both colour accuracy and contrast levels.
Ultrabook keyboards usually make for cramped typing, but the X1's keyboard which uses scalloped keys proved comfy. Especially compared to the flat topped Scrabble tile style keys found in most ultrabooks.
The keyboard layout is pretty bog standard except for the Delete and Backspace keys. These share the same space occupied by just the backspace key. This took some getting used to, but I soon got used to it.
Being a Lenovo, you're spoilt for pointer options. In the middle of the X1's keyboard is their trademark red Lenovo TrackPoint. There's also a click-pad plus the usual Windows 8 touch screen. Aimed at business users, the X1 also sports a fingerprint reader for keeping things secure.
Another interesting wrinkle is the X1's function keys. Lenovo has scrapped them, replacing them with a touch-sensitive LCD strip. They've branded this the Adaptive Function Row. As its name suggests it's touch sensitive and backlit LCD (protected with Gorilla Glass).
In practice this meant that the usual function key capabilities are present and customisable web and media functions are available too. I liked the concept but also found hunting for the right function frustrating.
Bells and whistles
Being an ultrabook, you'd think the X1 was somewhat constrained in the connectivity department. All told there were plenty of connectivity options but some compromises had to happen.
On its right hand side is a Kensington lock, a USB 3.0 port plus a micro Ethernet port which uses a supplied adapter to connect a LAN cable. These annoy me, as they're another bit of clutter to worry about losing.
On the X1's left-hand side, there's the power connector, an HDMI and mini DisplayPort socket as well as a second USB 3.0 port.
On the wireless front, the X1 wasn't lacking either. Sporting 802.11ac/b/g/n Wi-Fi and Bluetooth 4.0, the X1 also has the option for 4G mobile data, with a SIM card slot on its rear.
Under its hood the X1 sports a 128GB solid-state drive (SSD) which delivers speedy performance. The downside is that its small size means an external drive is likely to be a consideration when buying the X1.
X1 Carbon Touch packs an Intel Core i5 CPU, along with 8GB of RAM. In use it felt zippy. This said Intel HD Graphics 4400 means gaming isn't going to be a serious option.
The X1's petite chassis also meant that battery space was limited. This saw the X1 equipped with a 45-Wh, eight-cell battery which is also sealed inside the X1's body, making it non replaceable. I managed to wring just shy of 4 hours 40 minutes out of the X1 before it called for its charger.
The X1's battery charged amazingly fast - hitting 80 percent of its charged capacity in just an hour.
Verdict
The Lenovo ThinkPad X1 Carbon is a solidly built business laptop that sports a light yet durable design. Spec-wise it is no gaming rig, but has plenty to offer as a productivity tool. A crisp HD touch display, plus a LCD backlit Adaptive Function Row strip and fingerprint reader combine to make the X1 a solid workplace machine.
Tech Specs
RRP: $2,899
Display 14" IPS LCD multi-touch, LED Backlit
Display Resolution 2560 x 1440
Bluetooth 4.0
WLAN 802.11/ac/b/g/n
Finger Print Reader Yes
Webcam 720p
GPU Intel HD 4400
Ext Display ports 1x HDMI, 1x DisplayPort
OS Windows 8.1 pro (64bit)
Battery 8-cell, 45 Wh
CPU Intel Core i5-4300U (1.90 GHz)
Storage Solid State Drive 180 GB
Memory 8 GB 1333DDRL