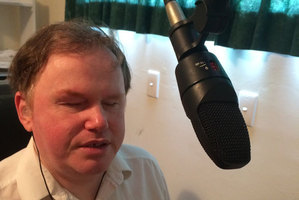 Smartphones are such a big part of our daily lives that we pretty much take them for granted. But spare a thought for those who have a disability that makes using a smartphone next to impossible.
This is starting to change thanks to a Wellington start-up staffed entirely by blind people whose aim is to make sure that smartphones are no longer a mission impossible for sight impaired, or blind users.
Using a smartphone when blind or vision impaired can be pretty tricky. For a start there's no bumps or other physical cues to indicate the whereabouts of a button on a smartphone touch screen, which severely limits a smartphone's usefulness to people reliant on touch and sound rather than sight.
Yet there are still many vision impaired or blind people using smartphones. This is largely thanks to screen reading apps such as VoiceOver in iOS, and Talkback in Android.

This hasn't escaped the attention of Appcessible.net founder, Jonathan Mosen, a blind iPhone user who wants to help app developers gain easier access to mobile assistive technologies when creating apps.
"There's apps that cater specifically to the needs of blind people, such as money readers and apps that describe a picture you've taken. But the vast majority of apps we use are designed for a general audience."
According to Mosen, The lack of sight impaired smartphone apps was a driving factor in setting up Appcessible.net.
"There is nothing more frustrating than downloading an app to find it isn't accessible with screen reading programs. I founded the company because we got feedback from developers saying they want to do the right thing, by making their apps accessible, but don't know where to start. It really isn't that difficult, and the app doesn't have to lose any of its visual appeal in the process - just conform to a few simple guidelines so the screen reader knows how to speak the information to a blind person, or display it using a Bluetooth-enabled Braille display."
Even though there's plenty of websites where users can post reviews and discuss the accessibility of apps, Appcessible.net provides a place for developers to receive feedback and suggestions for making their product more accessible to blind and sight impaired users. Appcessible.net offers services ranging from writing a report on a developer's completed app, through to consulting with developers so accessibility is baked in during an app's design phase.
What makes Appcessible.net unique is their lack of automated testing procedures. Blind iOS and Android users test the apps at each phase of the process and Appcessible.net helps connect developers with blind customers through the company's blog and podcasts, submitting reviews of the app's accessibility to app directories.
For Mosen it's a win-win situation, "If you make money from your apps, it just doesn't make economic sense to shut out an eager group looking to purchase apps. Even if you don't make money from your apps, then it's just the right thing to do."