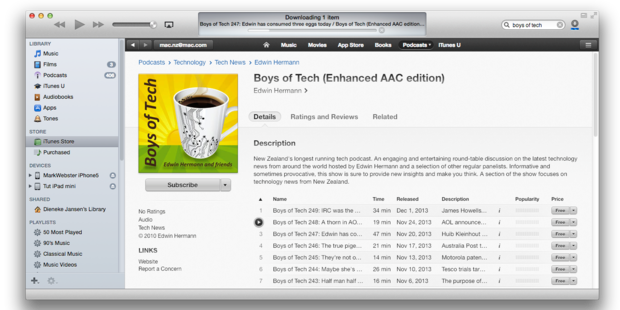 I've mentioned podcasts before - in short, they're free informational and/or entertainment sound files you can subscribe to in iTunes, then listen to at your leisure on your Mac, PC, iPad, iPod or iPhone. Some also have video, like the wonderful ones from National Geographic. I use them a lot, favouring tech and history subjects, but some spend hours listening to comedy like Flight of the Concords. Basically, open the iTunes Store in iTunes and click the Podcast tab, find one you like, click Subscribe and you're presented with the list of available episodes. Just 'Get' the ones you want.
To do the same on an iPad or iPod, simply open the free Apple Podcasts app - there's an iTunes U app in the App Store too, also free. (In the iTunes U app or under iTunes U in the iTunes Store, you find podcasts created by universities from all over the world, also all free.)
Podcasts I subscribe to include NZ's National Radio (great for catching up on interviews I haven't been able to hear when aired), Stuff You Missed In History Class, History of WWII, History Extra, The British History Podcast, BBC World Service 'Witness' and more.
If you'd like to follow trends and commentaries about technology, Boys of Tech is put together in Wellington and covers the world of tech - and not just Apple, by any means. There are several podcast directories besides iTunes - you'll notice that if you check out the Boys of Tech website and subscribe directly to the feeds (AAC RSS feed here).
The podcast is New Zealand's longest running tech podcast and is now five years old, having been started in January 2009. It was an idea that Edwin Hermann began with friends to come up with a tech podcast that covers not only the big stories of the week, but also more NZ-focused stories.
Although the podcast isn't Apple-centric, it is recorded and produced entirely on a Mac. Edwin uses GarageBand, WireTap Studio, Apple Audio Units and of course Skype, which enables far-flung invited guests to participate.
A handful of episodes were recorded live at bars - usually the Southern Cross Bar in Wellington.
Up to December 2013, 252 episodes have been recorded and made available, representing 151 hours of audio with average episode lengths of 37 minutes each.
Edwin reckons 1602 topics have been covered, averaging about six per episode, taking up an average of six minutes each.
Edwin can't be certain what his audience is. It's difficult to ascertain because all he gets back are logs which can be interpreted in many ways. "However, the logs show that this year we peaked at 749 unique hits in a month with 2596 downloads. Those stats are purely for downloads of the audio files (the website count is even higher, but of course does not indicate listenership). The actual number of regular subscribers is almost certainly less than this ... but there's no way of telling."
Some facts: the youngest guest on the show was nine-year-old Marko Calasan in Episode 67.
Most participants in one episode: six (two panelists and four guests) was also in Episode 67.
The first female on the show was Kate Carruthers - I guess that rather underlines the title of the podcast! Kate appeared in Episode 67; the first female panelist was Kim Farrar in Episode 239.
I asked Edwin how he puts the episodes together. "The Mac lends itself so well to podcasting right out of the box. For example, Garageband is the perfect tool for putting together the audio tracks and music loops to produce a final product (the post-production, if you will).
"Macs also come with some great built-in Audio Units. For my podcast I make use of the dynamics processor, the multi-band compressor and the peak limiter. So basically you have some really good tools to put together and publish a podcast right out of the box. It really comes down to horses for courses. For podcasting, the Mac seemed like the logical choice. For my LPFM (low-power FM) radio station I chose a Windows PC. There was better radio automation software available for PC, and needless to say the range of radio software was many times bigger than that for the Mac or Linux (though there have been some good progress for those platforms more recently). So although I am a Mac guy, I'm not the stereotypical brand-victim who can't see past anything Apple."
But "I'd be lying if I said I only used out-of-the-box tools. Let's start with software:
1. Skype is important because that's how most of the panelists and guests are streamed in, plus it lets us make calls to phones without the need for a telephone hybrid or other such hardware.
2. To record the audio I use WireTap studio, from Ambrosia Software. It's a great software package that provides the ability to record from an input source (line-in, in my case) as well as the entire Mac audio pipeline. So that's great for capturing the audio from the Skype session as well as my voice which comes through the line-in channel. WireTap Studio has great features like maintaining a library of recordings (it's stored as a bundle on the Mac), the ability to easily preview and export the audio in many different audio formats and qualities, and the ability to apply Audio Units. It also provides basic editing facilities such as slicing and 'cutting out' audio content.
3. To upload the media files I use Expandrive. It's an FTPS/SFTP client which allows you to upload and download content through the Finder (unlike the built-in GUI FTP client that comes with Mac OS X which only allows you to download).
"As for hardware, I use Shure SM58 Microphones. This may come as a surprise; you may have expected the mics to have been dynamic microphones. Indeed, these would produce a warmer, fuller sound, but they require the studio to be both soundproof and also absorb sound (these two are not the same thing). Because my studio is not a professional studio, a good vocal mic like the Shure SM58 instead does the trick.
"I have a StudioMaster Club 2000 audio mixer which takes the audio from my mic and feeds it into the line-in on the Mac. It's an old British mixer, but has that great 'British EQ' sound to it."
You can see how Edwin's relatively simple aspirations have grown quite dramatically since 2009. In Part 2, I'll let Edwin tell you more about the process and cover some highlights from the series.