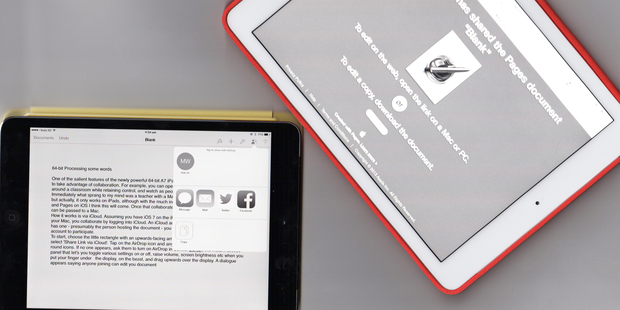 One of the salient features of the newly powerful 64-bit A7 iPad Air and mini is that they can take advantage of collaboration. For example, you can open a document in Pages, then share it around a classroom while retaining control as people add to it.
Immediately what sprang to my mind was a teacher with a MacBook and the students with iPads - but actually, full collaboration only works on iPads, although with the much increased parity of of Pages on Mac and Pages on iOS I think this Mac/iDevice collaboration will probably appear sooner or later. Once that collaborated document is finished, of course, it can be passed to a Mac for finishing in more comfort, using a keyboard etc.
How it works is via Apple's free iCloud service. Assuming you have iOS 7 on the iPad and Mac OS 10.9 'Mavericks' on your Mac, the collaboration is handled by being logged into iCloud. You don't actually need an iCloud account to participate just with iDevices; on any iPads in range, you just need to turn AirDrop on.
To start, on your iPad with a document open in Pages, choose the little rectangle with an upwards-facing arrow at top right of your display, and select 'Share Link via iCloud'.
Tap on the AirDrop icon and anyone available (in the same wireless network) appears in a list of round icons. If no one appears, ask them to turn on AirDrop in Control Center (sic), the instant-access panel that let's you toggle various settings on or off, raise volume, screen brightness etc. And if you haven't figured this out yet, put your finger under the iPad's display, resting on the bezel along the bottom, then drag upwards over the display.
Here you get instant-access controls. Drag it down to get rid of it, once you've changed settings.
Anyway, on an invited device, a dialogue appears saying anyone joining can edit you document. You can choose to edit it on the Web by opening a web browser and logging into www.icloud.com with your Apple ID (an email address) and your long and complicated password - or you can choose to download the document in its entirely.
On the other device, you can choose to download it as a PDF (meaning you can annotate, but not edit, it), in Word format or as a Pages doc. Since you can't get Word for iPad, most will probably choose Pages since it's now available free on any new iDevice. Then you can edit to your heart's content. You can always export it as Word later should people using Word, on Macs or PCs, be the planned recipients.
I started this document on a new iPad mini, moved it to an iPad Air, and from that sent it to iTunes. This meant that on my Mac, I just opened Pages and the first Open dialogue box shows my iCloud account, with this document available. Easy.. Actually, at that point I copied all the text and pasted it into Nisus Writer Pro, as that's been my favourite Word Processor for years and I prefer to finish everything in there, especially since it has a proper NZ English Dictionary - and of course, it opens and saves Word files if you want it to. I send all my Apple Watch stories as Word Docs but I haven't had Microsoft Word on my Mac for years.
It's still the de facto standard, and yes, it's what many people are used to, but I find most people barely scratch the surface of its many and wonderful capabilities - so I often wonder why they insist on it.
It's a long time since people used to buy Macs just to get Microsoft Word, since it was available for Mac long before it was for Windows PCs, but now almost everything can read and write Word files, even Apple's free Text Edit app (it's in your Mac's Applications folder), which I've mentioned before. As long as you turn Wrap to Page on in the Preferences, it actually even looks and acts like a word processor rather than a notepad.
Of course, if you're a power user or you exchange Word docs constantly with those on PCs, you can't beat Microsoft's venerable workhorse.
I do use also Pages, but only when I want to combine images and text quickly and attractively, although I still prefer Adobe InDesign for longer documents like MagBytes, the free news, tips and tricks newsletter. I use Pages when I start a doc on an iPad, say if I'm sitting in the lounge and inspiration takes me, which is very useful, or if I'm on a plane and I need to record some thoughts.
Also, though, Pages is the perfect tool for writing eBooks, so if you're thinking of entering the world or electronic publishing, it offers great tools, especially combined with Apple's free iBooks Author.
People don't really seem to get iBooks. They're basically just PDFs, but they support still, and moving, graphics. You can drag-and-drop any PDF onto your iTunes icon in the Dock to instantly convert it to an iBook you can read in iBooks on your iDevice, complete with page-turning and all that stuff. If anyone emails you a PDF and you get it in the Mail app on your iDevice (iPad, iPod touch, iPhone) you can put your finger on it and hold and, as long as you have the free Apple iBooks app, you get the option to store it in there, which is really handy because you can go back and read it anytime rather than hunt through all your emails.
Anyway, back to Pages and word-processing on iPads. It's perfectly usable, has added features in the new 'free' version (it's free on new iPads or free if you previously bought it, as I did, for NZ$13.99 before it became free.
If you've never had it before and you have an older iPad, you'll have to buy it. If you do have a new iPad and you can't find it, you need to go to the App Store, type in Pages and download it for free.
It's well worth it.