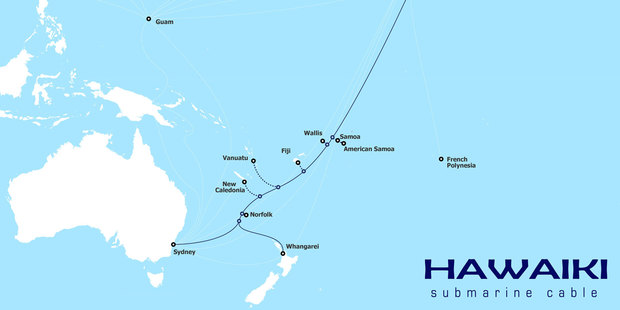 A company hoping to build a US$350 million submarine internet cable out of New Zealand is eying up Whangarei as its landing site.
Auckland-based Hawaiki Cable is planning to build an internet link between New Zealand, Australia, Hawaii and the US west coast and said today that the system could be operating within two years.
According to plans aired last year, the main cable would also have branches running to Norfolk Island, New Caledonia, Vanuatu, Fiji, Wallis, Samoa and American Samoa.
In a statement today, Hawaiki Cable says it has signed a memorandum of understanding with the regional economic development body Northland Inc to land the cable in Whangarei.
While Hawaiki has committed to landing the proposed cable in this location, Northland Inc will "aid both the landing and the funding of the cable, including sourcing local investors and promoting funding through the Northland Regional Council's Investment and Growth Reserve".
Hawaiki said a second cable system out of New Zealand would bring "true competition to the market" and provide "security of supply necessary for the country to host international data centres".
Hawaiki Cable chief executive Rémi Galasso said New Zealand had all the "necessary ingredients for the development of a datacentre industry".
'The missing link is submarine cable diversity with a direct access to the United States," Galasso said.
Pacific Fibre - which was backed by Trade Me founder Sam Morgan - also hoped to build an internet cable between New Zealand, Australia and the United States but failed to gather enough funds for the build.
As it stands, New Zealand has only one international internet link - the Southern Cross cable system.
Telecom, Vodafone and Telstra have also announced plans to build a new undersea telecommunications cable between Auckland and Sydney.
The companies said in February that the new cable, tentatively titled the "Tasman Global Access" cable, would "significantly improve New Zealand's international telecommunications connectivity as well as strengthen links into fast-growing Asian markets."
The total cost of the cable is expected to be less than US$60 million ($NZ70.9m).