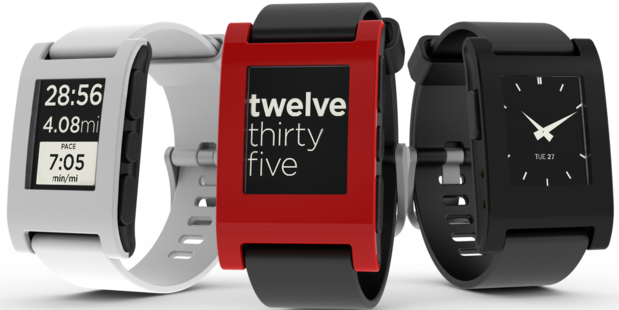 Chances are that if you've ever heard of the Pebble Smart Watch, you've probably also heard of Kickstarter, the site where start-ups tout their ideas to seek funding in what can best be described as the digital equivalent of an old-school telethon. Pebble also put Kickstarter on the map, with the smart watch maker garnering an astonishing US$10 million in pledges. Perhaps the first indication that Pebble's smart watch idea was going to fly was when they breezed past US $100,000 in online pledges in their first two hours on Kickstarter.
Funding hype aside, I took advantage of a birthday to plunk down US$150 and pre-order my very own Pebble online. That was back in February, now 4 months later, it's finally arrived. You'd be forgiven for wondering just what all the fuss was about. Essentially the Pebble is a post millennial re-take on the humble digital watch. The clever twist is however that the Pebble is paired up with an Android or iOS smartphone using Bluetooth. Doing this means that the Pebble can notify you of incoming calls, text messages/emails and gosh darn, it'll even tell the time.
In Use
This may sound like gadgetry for gadgetry's sake but in use, the Pebble has so far proved incredibly handy. There's nothing worse than being in a meeting when expecting an important email. Distracted glances at ones smartphone during a meeting are not only impolite, but can also de-rail the meeting. With the Pebble you can switch your phone to silent which translates into less distractions at the meeting and having the pebble gently vibrate on your wrist when the email arrives is also far more discrete.
In effect this also means that my phone is almost permanently switched to silent mode. Before the PebbIe arrived, using silent mode meant I was constantly missing calls and forever calling people back. With the Pebble on my wrist I am not only able to be alerted to all incoming calls, text and emails but can also discretely glance at my wrist to see who is calling and decide if I should take the call.
Equally handy the Pebble's watch face is able to be customised from a huge pool of custom watch faces crafted by a growing pool of third party developers. The Pebble can store up to 8 different watch faces, allowing you to use whichever takes your fancy. Watch faces range from replica old school digital watches through to clever word clocks that spell out the time (e.g. a quarter past five etc.) and even mock-ups of high end analogue watches. Their sheer variety is boggling.
I did have some concerns about the Pebble's rubber wrist strap, but so far it has proved pretty durable. Looks-wise, the pairing of the red Pebble watch (they're available in red, black, white, orange and grey) and the black rubber strap makes for a good looking timepiece, but it does resemble more of a digital sports watch than a dress watch, so some people may want to opt for something a little more formal if dressing up.
Another big selling point with the Pebble is that unlike many other smart watches, it is also waterproof to 50 meters, which means it can be safely worn in the pool, at the beach and in the shower. The water proofing is achieved by minimising the amount of gaps and holes in the case. This also means that charging the Pebble is done via a clever USB cable that magnetically connects to exposed metal connectors on the side of the Pebble.
Battery Life
Another big selling point of the Pebble over other smart watches is a week-long battery life (or five days with frequent use). Central to this is its display which makes use of LCD e-paper technology, dramatically reducing power consumption. The display is a mono 114 x 168 which mightn't seem like much given the vast HD colour screens available on most smartphones, but is more than ample for viewing SMS's, emails and of course checking the time.
There is also a backlight for night viewing which is activated whenever the Pebble receives a notification or by flicking my wrist. So far I've not managed to accidentally activate it. The backlight is bright enough to be readable in darkness but it's also thankfully dim enough not to be an annoyance to people at the movies which makes it an ideal way for smartphone junkies to get their fix at the cinema without creating major annoyance for other movie goers.
Although the Pebble will work without a smartphone, it doesn't do much apart from tell the time (which is vital in Airplane Mode when travelling). Connectivity is however supplied using Bluetooth 4.0, and this equates to reduced energy consumption for both your smartphone as well as the Pebble itself.
Unlike other smart watches, simplicity and a minimalist approach appears to have played a big role in the Pebble's design. In essence this means that there's no touch screen, and navigation is done using side-mounted buttons. In practice this has proved to be intuitive and was preferable to the hunt and peck routine on the tiny screens of other smart watches I've tested. The Pebble's navigation buttons are also logically laid out. It has a back button on its the top left side, while its right hand side sports two buttons, the top one for scrolling up, a centre button for selecting options and the bottom button for scrolling downwards.
Navigation aside, the Pebble also requires that your smartphone run an app which allows the phone to push notifications out to the Pebble and for you to install additional apps and custom watch faces. At the time of writing, the Pebble app is available for Android as well as iPhones, iPads and iPod touch devices.
Getting set up was a pretty simple process and to prove the point the Pebble comes with no manual in the box. The setup process consisted of pairing the Pebble with my iPhone and HTC One and the app on the phone pretty much took care of the rest. Being paired up with your smartphone also means that it'll automatically display whatever happens to be the local time on your smartphone, which means no fiddling around for travellers if their phone is set to get the time from the mobile network provider, which is of course insanely handy.
Another feature that proved surprisingly handy was the Pebble's music controls. These allowed me to play/pause and skip music tracks backwards or forwards on my phone. This also handily meant that I didn't need to fish around for my phone or muck about with fiddly controls on my headphones.
But will it fly?
Based on the enthusiasm that developers have embraced the Pebble with, its success seems fairly probable. There's a rapidly growing number of custom watch faces and apps available and an independent app market has also been started up. This said there are already rumours of an Apple smart watch and updates to existing smart watches from manufacturers including Sony and Google.
At the end of the day however, competition is unlikely to be a big issue as the Pebble is perhaps one of the most practical smart watches on the market and their "keep it simple stupid" approach effectively translates into a design that is as elegant as it is simple. Other smart watch wannabes will need to innovate carefully to match the Pebble's sheer usability and long battery life.
Perhaps the biggest negative counting against the Pebble so far is its lack of retail presence. Because the Pebble can only be purchased online, there is a very real risk that brands with a sizeable retail presence could crowd out the Pebble. This hasn't escaped the folks at Pebble who just several days ago inked a deal with US electronics retailer, Best Buy. Here's hoping something similar happens here in New Zealand (the smart money would be on Telecom, Vodafone and 2 degrees doing smartphone and Pebble bundles).