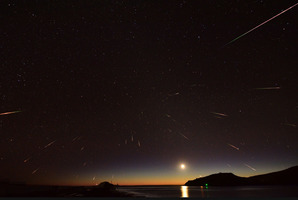 An Invercargill photographer has captured stunning images of a meteor shower over the Otago Harbour this week.
Stephen Voss, of Deep South Astrophotography, took the photos of the Aquarid meteor shower early yesterday morning.
"I had been aware of predictions that the Aquarid Meteor Shower might produce more than average meteor rates for this year)," Voss said. "During a specific meteor shower, the meteors all appear to radiate from a single point in the sky (as the Earth ploughs through the dust stream left over from an old comet - in this case Halley's comet)."
He said he needed a clear view to the north east, so drove to Aramoana at the entrance to Otago Harbour to take the snaps.
"As soon as I arrived it became clear that we were seeing higher than average meteor rates. The images I've taken are a composite of multiple frames taken over a 90 minute period," Voss says.
"Several of these meteors were very bright - leaving residual trials in the sky for several seconds afterwards. At least one appeared to leave behind a faint smoke trial which persisted for up to a minute afterwards. The show was only halted by the arrival of dawn."
Voss, who has been interested in astronomy since childhood and pursued astrophotography for the past 10-12 years, said people wanting to take photos of meteor showers and auroras use a SLR camera with a wide angle lens, as well as a tripod and remote to avoid camera shake when opening the shutter. For deep sky imaging (such as taking photos of galaxies or nebula), he said a telescope and tracking mount was needed.
He suggested budding photographers start with something simple like star-trails and progressed from there, and got advice from their local astronomical societies or from Facebook groups dedicated to astronomical events.
The annual Eta Aquarids meteor shower captured from Otago Harbour at Aramoana, as captured by Stephen Voss: