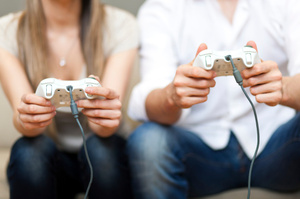 RUN IN PLACE: While you play video games your character may run, walk, jump and be incredibly athletic. Meanwhile, chances are you're sitting comfortably.
Virtuix hope to change that with their omnidirectional treadmill, a natural motion interface. The Omni is a small octagonal platform, with an enclosing rail above it to hold you in place. As your onscreen character moves, so do you. You can walk and run in any direction, stand still, look around and generally be more engaged in your character. Add a VR headset for the full immersive experience. That could be a whole more fun at the gym too.
COOLING STEAM: If you have an electric car then you may have to trade off heating and air conditioning against the distance you can travel on a battery charge. Researchers at MIT are working on a new thermal battery that can be used for either heating or cooling.
Water is pumped into a low-pressure container, evaporating and absorbing heat in the process. Then an adsorbant material pulls water vapour out of the container, keeping the pressure low so more water can be pumped in and evaporated. That process keeps the passengers cool. Or the heat that's released from adsorption can be used to warm up the passenger compartment. Eventually the system needs to be recharged, which could use heat from a solar water heater, and happen while the battery's charging. A steam engine in a car, eh?
LIVING ON THE RIVER: The WaterHouses are smart, 34 eco-friendly apartments in Hamburg, Germany. They're actually built directly on the Elbe river, connected to shore by footbridges. A building control system provides a touchscreen to individually adjust heating and cooling, while heating and hot water come from a geothermal heat pump system and solar thermal elements in the facades. And when the river floods, do they rise with the tide?
LIVING ON THE ROAD: The Kiwi designed Romotow isn't your ordinary caravan. It features an aerodynamic shape and plenty of glass, and is lightweight for added fuel efficiency. Its big point of difference though is that the main body is contained within a shell. The inside portion with the indoor living area can be swivelled by 90 degrees, leaving the outer shell as a covered outdoor area. Unfortunately the caravan's still only a design awaiting a protoype but it would be great to see these on New Zealand's roads.
PICKABOT: Industrial robots are superb at tirelessly repeating the same action over and over without change, for example in welding parts. But Industrial Perception are aiming to give robots the ability to make some decisions for themselves, for example, picking a particular object out from a pile of many objects. Their robots use multiple 3D sensors and engineered algorithms to carry out assigned tasks. The robots start by creating a real time digital 3D model of the scene. Then they search for a specific shape by fitting a 3D mesh of the desired object over the shapes in their field of vision. Finally the robots act on the object, perhaps picking it up and moving it. They may be slower than a human worker, but can work without breaks and without tiring. No smoko for robots.
Miraz Jordan, knowit.co.nz