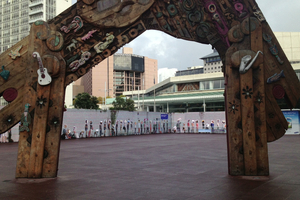 The chance to win a new smartphone has led more than 8,000 New Zealanders to line up in central Auckland and attempt to queue-jump each other to victory. The city's inclement weather is causing them no problems however, because the contestants aren't physically there.
To promote this weekend's launch of the Galaxy S4, manufacturer Samsung commissioned a virtual queue. Participants sign up online, compete using their social media accounts, and their movements are represented in the real world via an LED screen which is dominating the space at Aotea Square.
The "Get In Line" project is being touted as a New Zealand first and it relies upon players to use social media to post tidbits about the new phone in order to encourage shares and likes among their friends. The more influential their output is, the further up the line they go.
Representatives at Pead PR say that to date, 45,000 individual posts have been disseminated on Facebook and Twitter from a contestant pool of 8,320 people.
The screen, measuring in excess of 50 metres and standing over three metres high, is linked to local weather and time data streams which are reflected in the behaviour of the avatars of the contestants on screen.
Mike Cornwell, Marketing Director at Samsung New Zealand, told nzherald.co.nz that the activity among contestants had "far exceeded" his company's expectations.
"The aim of this initiative was to engage consumers, generate discussion, and create awareness in the lead-up to launch," he said.
"We believe the online queue has done exactly that, and right now there's a lot of information about this great new phone being shared."
Mr Cornwell said that the nature of social media sharing meant information would not be taken as spam by friends and contacts of the game's participants. He also said users could control their own output by previewing individual posts and deciding which ones to share.
"It's not spam if it's coming from someone who you've chosen to be connected to," he said.
"People who are active in social media share information that's of interest to their network - the system behind the online queue is designed to co-opt support by sharing useful information about the new Galaxy S4."
Samsung's new smartphone launches in New Zealand this Saturday at 10am.