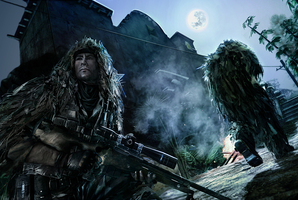 Many first-person shooter fans will tell you that there is an unparalleled joy in picking up a sniper rifle in a game. The whole process of stealth and precision, before basking in the glory of your target crumpling silently to the ground a million miles away. Perhaps it's that whole sense of inconsequential action, with you tucked away secretly in the distance as an invisible assassin. Or maybe it's just inflicting chaos as you watch your helpless enemies run around in horror, not knowing where your shot came from.
For those who understand what I'm talking about, Sniper: Ghost Warrior 2 is intended to float your boat. But while it promises to deliver one of the most realistic and exciting sniper video games to date, it certainly has its fair share of faults. Unfortunately, these faults creep into nearly every facet of the game, much like a ghost warrior of glitches.
One of the main issues, despite a marketing angle that targets this game toward a niche audience, is how derivative Ghost Warrior 2 is. When you're playing, the game reminds you of every other sniping mission you've ever played in a video game.
Except with all of the fun sucked out of it.
Ghost Warrior 2 is painfully linear, with each mission forcing you to adhere to set rules and directions. One of the joys of sniping games is assessing your surroundings and plotting the ideal vantage spot to take down your opponents. Here, all of that freedom is stripped away from you. There are no alternative routes or even much variation from one mission to the next. Instead, the game constantly instructs you where you should go, who you should shoot, and even when you need to hide. There were moments in the game where I expected it to tell me to go wash my hands or eat my vegetables. The game seems to suffer from extreme obsessive compulsive disorder. And if you go against any of the multitude of orders being barked at you, it's an instant fail.
When you're not being ordered around, you will get the chance to actually play the game. Again, the fun-factor has been limited severely thanks to dull AI - enemies will simply stand around like cardboard cutouts. They also don't seem to have any problems when stumbling across piles of dead men, often ignoring their fallen comrades while standing a few metres from them. Granted, there are times when the AI gets it right, such as rushing your position in numbers or taking cover behind a big rock. But most of the time you'll be picking off targets as if you're at a carnival duck shooting gallery.
Ghost Warrior 2 attempts to counter brainless enemies by throwing other factors into the works, like elevation and wind, both of which certainly require attention. For casual players, the game will help you with a secondary crosshair which shows where the bullet will impact, but thankfully it can be turned off on Expert mode for the real deal. Even on the hardest difficulty, however, executing a target from long range doesn't seem to bring any real sense of reward - simply because the game never creates any kind of tense atmosphere. Instead, you just get dropped into a generic warzone and then proceed to crouch-run everywhere, occasionally shooting at things.
The game also demands an incredible amount of patience throughout. It's an attribute I appreciate any good sniper must possess, because sniping in real life is all about patience and precision - often lying in wait for hours until the perfect opportunity presents itself. The problem here is that the waiting around in Ghost Warrior 2 is bloody boring. You never feel any sense of vulnerability or fear simply because the enemy couldn't shoot their way out of a paper bag. Half the time they aren't even looking in the right direction.
Ghost Warrior 2 also makes a huge faux pas by failing to acknowledge the importance of good storytelling. Instead, the developers - Interactive City - have assumed that all that matters is ploughing through targets one after the other while staring down a scope of a gun. Without a narrative, every kill lacks meaning. Who cares that you just put a carefully lined up bullet into the back of an anonymous head?
One little feature that really impressed me was how pulling the right trigger too quickly can cause your rifle to jerk upwards with recoil. Instead players should initiate a calm, gentle squeeze (yeah... just like that). There are other memorable periods to be had in Ghost Warrior 2 as well, such as that 'high-five moment' when you nail three enemies with a single bullet, or when you watch a slow-mo bullet close-up whiz through narrow gaps to strike the throat of a guard.
But these moments are sporadic, sparsely spread throughout the dull singleplayer campaign, which thankfully clocks in at only five hours. Those expecting to inject some more action in afterward via the multiplayer will be disappointed too. For starters the only mode is a plain old team deathmatch and you can enjoy this single mode across a whole (wait for it) two maps. To make matters worse, both the maps are almost identical in terms of design.
Some readers may see the score for this game and simply assume we didn't "get it" or that we were "expecting a Call of Duty action-fest." But while the pace of this game is intentionally slower and requires a lot of patience, surely this should mean that the sense of satisfaction should be more intense between the 'lesser' moments? Instead the game plods along with the same mundane structure from start to finish. Go there. Shoot that guy. Wait here. Crouch. Stand up. Crouch-run. The last sniper game I played, Rebellion's Sniper Elite V2, while hardly perfect, at least offered some cheap thrills along the way.
It's a strange thing as there is obviously a niche market for sniper-only titles, judging by the number of games out there. But it is exactly that; a niche market. Ghost Warrior 2 falls into the trap of trying to be accessible to a wide audience - however the end result is casual and veteran gamers will feel ultimately let down by a complete lack of freedom and unoriginal gameplay.
Platforms: Xbox 360, PlayStation 3, PC
Classification: R16
Rating: 2/5