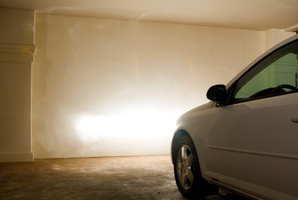 AUDI, WHERE'S MY CAR?: German carmaker Audi is undertaking an interesting experiment: at one specially equipped parking garage the cars park themselves. All the driver has to do is step out of the car at the door and call it back with a smartphone app when they're ready to leave. The garage contains numerous laser systems that map the environment in 3D. Meanwhile the cars are equipped with radar and wireless receivers so they can find their own way to an empty spot. And then surely the payment system could be automated too.
WATERING STATIONS: Those of us who drive vehicles fuelled by petrol know we'll find plenty of petrol stations along most routes we travel. But battery powered vehilces risk running out of juice far from a charging station. Israeli company Phinergy have created a battery that creates energy by mixing ambient air, water and aluminium. Their Metal Air would allow drives to simply add water every few hundred kilometres to continue their journey.
So in future we may need only roadside cafes: a coffee for the driver and a bucket of water for the car.
MOTION CAPTURES: Actroid-SIT is a lifelike robot from the Japanese firm Kokoro. She functions autonomously, talking and gesturing while interacting with people. She makes eye contact and gestures in the direction of a person trying to speak to her, handling interruptions gracefully. People speaking to the robot found her gestures helped make her seem more friendly, sensitive, sophisticated, and warm. Which proves it's the subtleties that count.
KEEP YOUR COOL: We all know the problem of a car left in the summer sun — the burning steering wheel, the blast of heat when you open the door. Researchers from Stanford University have designed an entirely new form of panel using nanostructured photonic materials that cools even when the sun is shining by efficiently radiating heat back into space. It does this by emitting thermal radiation very efficiently at a wavelength for which the atmosphere is nearly transparent. Their new panel reflect sunlight and emits thermal radiation at just the right wavelength. The material is made of quartz and silicon carbide and achieves a net cooling power of more than 100 watts per square metre. The panels could replace solar panels used to power air conditioners that cool a building. And in the very hot countries that could be very welcome.
WARMTH FROM THE SEA: Researchers at Fraunhofer Institute for Chemical Technology have a new idea for building insulation: seaweed. Neptune Grass, deposited on Mediterranean beaches by the sea, generally ends up in landfill. It turns out though that it's virtually non-flammable, resistant to mould, and can be used as insulation without chemical additives. Processing removes the sand and produces short strands that can be stuffed or blown into the required space. The fibres act as a buffer, absorbing water vapour and releasing it again without impairing its own ability to keep the building insulated. No smell, or does the processing handle that too?
Miraz Jordan, knowit.co.nz