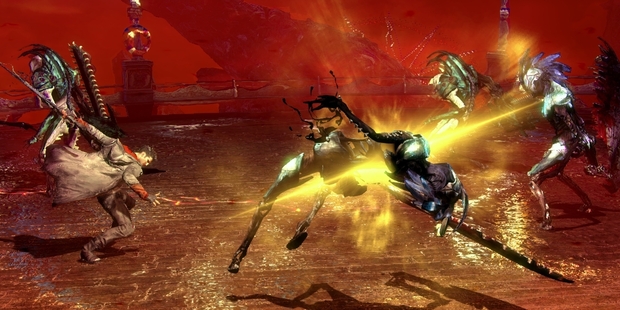 Dante awakens after a big night out - and an even bigger night in - to the news of a terrorist threat on the telly, and a piercing hangover clouding his mind. Then the world falls apart and the demons come screaming in to claim his life. But not without a fight, our hero reckons.
Devil May Cry is an ambitious reboot of the Devil May Cry series, with a new Westernised feel and a serious injection of sex, slashing and all the ills of corporate domination.
Half-angel, half-demon and all bad-ass, the new Dante is dragged into a parallel city called Limbo, where the devil is most certainly in the details. Pursued without mercy by the demon-mogul Mundus, Dante is aided from the real world by an accomplice who is aligned with The Order, the group labelled as terrorists by the demonic media.
Like the Dante of old, this contemporary brawler favours a sword and dual-wielded pistols, and uses them to spectacular, devastating effect - giving you sensations of raw power and mystic charm that nearly disguise the furious button-bashing and stick-twisting going on under your thumbs.
Using either trigger button modifies Dante's melee weapon, imbuing it with angelic or demonic power and the abilities to suit. For added style, the powerful Devil Trigger mode slows enemies down, turning the demon's soldiers into sitting ducks.
In a game where chained combos are of such high importance, the lack of a manual lock-on ability is a potential nuisance. It is fortunate, then, that a running counter actively tracks Dante's combos, letting you know when the chains are still alive.
The counter also grades you - in classic DmC style - as you link your moves, from a start-again-and-repeat-the-subject D up to that delightful A mark that the swots in school liked to rack up, and the high-prestige mark of S.
At times, DmC strays from its focus because of an in-game camera that doesn't always go where you need it to. Like its predecessors, the focus on scoring - and the naming convention for its grades - might be a little on the arcadey side for some.
Visually and sonically, DmC borders on perfect. It's presented like a film, it plays like a dream. It is dark, intelligent, runs red-hot with sex and ice-cold with attitude. Capcom and Ninja Theory have delivered a thrilling, mature experience deserving your attention.
Stars: 4/5
Platform: Xbox 360, PlayStation 3, PC
Rated: R13
- TimeOut