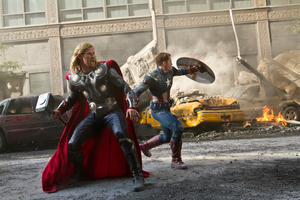 If one issue stood out for its ability to create debate amongst techies during 2012, it'd have to be the whole file sharing/copyright infringement issue. Debate was often as furious as it was vocal. On one side were the music and movie business who argued that downloading movies and music people was destroying their industries. File sharers on the other hand argued that this was ill informed rhetoric and so the debate raged on throughout 2012.
Taken to its logical extreme, the movie and music industry argument goes that if artists are unable to make money, they'll soon stop performing. Off the back of this, the entertainment industry would then eventually collapse, leaving people with nothing to watch or listen to. File sharers however argue otherwise, saying that Hollywood needs a new business model if it is to stay relevant in the digital age and that Hollywood/the music industry isn't likely to go broke any time soon.
Now it looks like file sharers may finally have some validation to their views with news from the website, Box Office Mojo, who show that US box office takings hit record levels in 2012, with US cinemas generating a whopping US$10.7 billion from people paying to watch movies at the theatre.
These figures highlight a pretty major flaw in the movie and music industries arguments around going broke from file sharing. Making matters even more interesting, the US figures are also backed up by international box office takings which grew just under three times over, from US$8.1 billion in 2001 to US$22.4 billion in 2011. Funnily enough, this time period also happened to be when peer to peer file-sharing really took off.
Clearly something doesn't add up, and a question begs to be asked: Why are people downloading and yet still buying movie tickets to see movies that they've already downloaded?
One answer may revolve around quality. Downloaded movies can range from barely watchable movies recorded on camcorders smuggled into cinemas through to higher quality "ripped" copies from DVD or Blu-Ray media. Additionally, watching a movie can involve a convoluted set up consisting of a PC, games console or dedicated media streaming device. These can be fiddly to configure or maintain, and more often than not lack the support for the multitude of video file formats used by file sharers.
Regardless, the simple fact remains that many people are going to a cinema to see a movie - even if they've already downloaded the movie. This has also been borne out of several academic studies which throw this trend into sharp relief (one study from the Munich School of Management and Copenhagen Business School, titled "Piracy and Movie Revenues: Evidence from Megaupload" even shows that the closure of the Megaupload service negatively impacted US movie ticket sales).
So are file sharing advocates who argue that peer to peer file sharing promotes cinema and DVD sales actually right? Unfortunately the answer is probably more complex than a casual once-over of the issue would have the casual observer believe.
?
Whilst file sharers argue that pirated movies merely act as a teaser for downloaders, things never stand still in tech and as such are changing rapidly. Higher quality HD and Dolby Digital capable video formats have the potential to drive greater availability of higher quality downloaded content. Could this in turn see less downloaders at the cinema?
Regardless, the file sharing ball is now in the court of the music and movie industry, who need to embrace the digital age instead of fighting it. Be it the complex task of adopting a new business model that encourages legit downloadable/streamed video (how about New Zealand Netflix?) or a collection of smaller, more simpler tasks such as getting rid of the ridiculous "viewing windows" that TV networks operate (which for example saw the end of the third season of Downton Abbey airing in the UK just as it began in the US much to the delight of downloaders).
This might be a big ask, but the fact remains that history is littered with the wreckage of those that chose to ignore the juggernaut of technological innovation. The movie and music industry does this at its own peril.