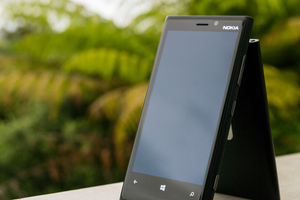 It's make or break time for Finnish mobile phone giant Nokia which has put all its eggs in the Microsoft basket to get itself out of its current predicament.
Much hangs on how well the new Lumia phones released recently will sell. The first generation of Lumias such as the 800 were good but Nokia's Android and Apple iOS opposition moves fast leaving the Finns behind in a relentless technology race.
The flagship Lumia 920 is the Nokia phone that will change everything, sporting much improved hardware, new features and Microsoft's finally released Windows Phone 8 operating system. That's the hope at least in Espoo and Redmond, and it is justified to some extent as the Lumia 920 means Nokia finally has a very strong smartphone contender that matches the best of the competition.
Supersized design
Nokia's premium phones tend to be very well built and designed; the Lumia 920 is no exception. The case is the same smooth polycarbonate as the earlier Lumia 800 and N9 and feels solid and good, with no creaks.
There are three hardware buttons - camera shutter release, power and a volume up and down rocker - on right-hand side of the phone.
At the top, a 3.5mm headphone jack and the micro-SIM slot and at the bottom, there's a USB 2.0 connector that doubles up as charger. Otherwise, it's a fully-sealed design so you can't add memory cards to supplement the ample 32GB storage the Lumia 920 comes with or replace the battery.
The brief for Nokia's design team must have said "make it better - and bigger" because the phone is 130mm tall, 71mm wide and 11mm thick, substantially larger than last year's Lumia 800.
Also, the Lumia 920 also weighs a fair bit more than most other phones, tipping the scales at 185 grams. In comparison, an iPhone 5 weighs only 112 grams.
I like large devices and didn't find the Lumia 920 unwieldy. However, its size and heft may not suit everyone and the Lumia 920 is definitely a try before you buy device.
The screen is big too, of course, at 4 1/2 inches and 1,280 by 768 pixel resolution. This works out as approximately 332 pixels per inch, and it's a nice enough screen made with IPS technology and covered in Gorilla Glass 2.
I found it reasonably visible outdoors, although the strong New Zealand sun can wash it out. More importantly, the digitiser on the screen was nice and accurate and got the majority of my finger pokes right. And yes, it works with gloves on. I tried with some knitted cotton gardening ones and was able to drive the phone just fine.
My review set was a Telecom branded one, and I tried the Lumia 920 on Vodafone's network too with good results in both cases with no reception problems and quick 3G data transfers.
You can get the Lumia 920 in some really unusual colours such as bright red, blue and yellow and my favourite, matte grey. If you're overseas that is. New Zealand only gets the black model for now, which is a shame.
Great camera
The headline feature on the Lumia 920 is arguably the 8.7 megapixel camera with Pureview technology. Quite rightly so too: with the bright (f/2) lens from Carl Zeiss and image stabilisation ironing out handheld wobbles, chances are you'll get that picture even when the sun's gone down and it will look good.
There is a flash on the Lumia 920 but its camera can be used even when it's almost dark thanks to the image stabilisation.
The Lumia 920 lets you shoot video in full 1080p high-definition, 30 frames per second, and with image stabilisation too for sharp and clear clips.
Inexplicably, Nokia put three very high-tech microphones in the Lumia 920, yet made it record sound in mono. Sure, it still sounds very good and the microphones tolerate very high sound pressure levels (up to a crazy 140dB) but why not record in stereo?
Another quirk I noticed here is that if you save images automatically to Skydrive (you get 7GB storage for free, down on the 25GB earlier), Windows Phone 8 reduces their resolution to 1,280 by 720 pixels.
I couldn't find a way to make the Lumia 920 save images at full resolution automatically. If you save the manually however, you get the full resolution.
Overall, I can't think of another phone with a better camera bar Nokia's Pureview 808 model that has a much larger sensor and a Xenon flash. The Pureview 808 lacks image stabilisation though which is an excellent feature.
Wireless wonders
Charging devices wirelessly may not sound much, but it's something of a killer feature. Nokia has several optional charging pads for the Lumia 920. The one I tried worked great, charging the phone roughly in the same time as with a USB cable.
Apart from the wireless charging, the Lumia 920 supports Near Field Communications or NFC, which is lets you connect to devices such as speakers and headphones or even other phones by tapping them. You can also send files other NFC-enabled phones.
NFC seems to work as advertised on the Lumia 920 ditto Bluetooth connections to audio and other peripherals.
There's tap and pay functionality too for the Wallet payments system on the Lumia 920 that may end up being useful one day when the technology is more widespread.
Hot number
The last thing any maker launching a new device wants is for it to have mysterious and potentially debilitating hardware problems.
Unfortunately for Nokia, some people are complaining that the Lumia 920 gets very hot in use and can shut down.
My review sample did get a bit warm every now and then, but never hot and I didn't experience any shutdowns or rebooting due to overheating. A crash did occur during the review period, but it happened when I plugged in the USB cable and to make it worse, the Lumia 920 hung when it restarted.
Since the Lumia 920 is a sealed unit, there's no simple whip off the back, remove the battery trick to get you out of these situations so I had to let the phone discharge and shut itself down.
I asked Nokia what their policy was for customers with too-hot Lumia 920s is, and was told people should contact the phone maker if they encounter any problems.
You could also try some of the many tweaks published by Mauricio Freitas at Geekzone to reduce the amount of power that your Lumia 920 uses, which should stop it from heating up and also, extend the battery life.
Speaking of which, with a 2,000mAh battery (one reason the phone's so heavy I imagine) the Lumia 920 lasted a whole day without recharging, and well into the next morning.
Windows Phone 8 with Nokia touches
This is my first time with Microsoft's new Windows Phone 8 operating system. I didn't think it was that different to the previous Windows Phone 7.5, bar the resizable live tiles on the home screen and some interface and application tweaks.
The older version ran well on single-core processors; this time around Windows Phone 8 has a 1.5GHz dual-core Qualcomm Krait processor to itself and performs even better. Windows Phone 8 has a fluid interface with no lag or judder as you swipe and slide around with the graphics-heavy screens, and performance is, generally speaking, excellent.
Thanks to the quick hardware, Websites load fast and with few problems on the Lumia 920; Adobe Flash isn't supported on Windows Phone 8 but the new HTML5 web standard is, so you can watch video and listen to audio on sites without having to run the battery-sapping Flash program.
Multimedia functionality is also good with video and music players, Xbox 360 gaming support, Dolby audio and more.
Windows Phone 8 is a very good for email and SMS, with good applications for both that have some of the best predictive text I've encountered. Setting up and using Gmail, Hotmail, personal email and if you want to, Facebook, are all very simple on Windows Phone 8.
Social media integration varies from app to app. Some let you share with just a few taps on the screen, others require you to delete generic text and add your own for your message to make sense.
The speech recognition built into Windows Phone 8 works rather well too - I set phone to use the UK voice and dictionary, and it understood just about everything I told it. I was able to send texts with speaking them for instance and searching the web, starting apps and more. The phone can also read out messages to you, handy when driving for instance.
More curious than useful are the "lenses" or overlays for the Bing search engine and Nokia Maps. The idea is that you start a lens and point a camera in some direction or the other, and the phone will show you where the points of interest are. It works, but often the locations given are kilometres away so some further fine-tuning is required.
I did encounter a number of bugs in Windows 8 however. A harmless but confusing one meant SMS texts received were stamped with the wrong date. Microsoft is aware of this, and looking into it.
The live tiles can be slow to update too. Sometimes the email ones say you one or more new messages but if you click through, the number is different - or you have none at all.
More annoying however is the "pseudo-multitasking" that third-party apps have to do. On more than one occasion, I would start up an app like Maps (Nokia's one is pretty good) and do something else.
Going back to the app, it would either take a long time to become active again or it would never get past the "Resuming..." stage. I understand this is due to developers of third-party apps not yet having added fast resume functionality to their code, but it's irritating nevertheless.
It was also disappointing that Microsoft has decided to dump Zune as the iTunes-like synchronisation software for Windows PC for Windows Phone 8, and replaced it with a bare bones offering that can't talk to your phone over wireless connections.
Even so, Windows Phone 8 is refreshingly different to Apple's iOS and Google's Android operating systems. Ironically enough, it's probably easier for iPhone and Android users to get the hang of Windows Phone 8 than it is for a Windows XP user to figure the desktop Windows 8 operating system.
The biggest hurdle for anyone migrating is likely to be the availability of apps. Microsoft's app store is getting better stocked by the day and there are some nice, high-quality ones in there already. The US company is also enticing developers with much more favourable revenue splits than what Apple and Google offer, in the hope of luring them on board.
That said, Apple and Android have been massive headstart on Microsoft here and there will be things missing, at least for a while. One weak spot is companion apps for electronic devices - vendors have yet to get used to the idea that there's a third app market to develop for.
Finally...
Nokia now has a premium device that can hold its own with the best out there. The Lumia 920 is quick, has a great display and a class-leading camera; Windows Phone 8 is maturing and becoming a solid choice too.
There are some concerns with the new contender that Nokia and Microsoft needs to address quickly though, like the complaints about overheating and annoying software bugs.
Other than that, if Apple and Android smartphones feel five-minutes-ago and you have a grand burning a hole in your bank account, check out the very capable Nokia Lumia 920. You might just like the big, bold thing.
Rating: 4/5