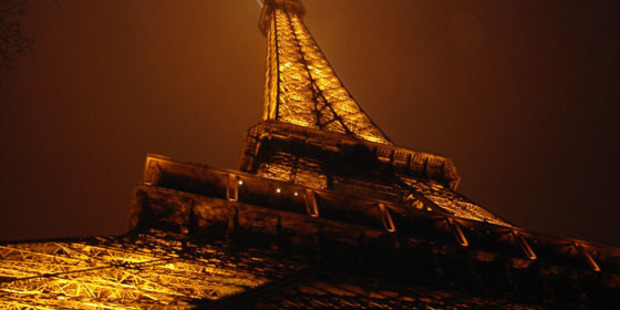 POWER ON HIGH: The world's tallest power supply pylon is in China's Anhui Province on the banks of the Yangtse River. It supports a new ultra high voltage power line to Shanghai and stands 277.5m tall — nearly as tall as the Eiffel Tower. The power line will bring 50 billion Kwh of electricity per year to Shanghai's 23 million residents, saving 280,000 rail carriages of coal per year. I imagine there are some coal workers who aren't so happy now. BBC elaborates.
FIVE FINGER TYPISTS: The Gauntlet Keyboard, developed at The University of Alabama, is a glove that functions as a wireless keyboard. Certain points on the fingers are assigned a letter or other keyboard function. The wearer touches their thumb to a designated spot to activate that letter and send a signal through conductive thread. Commonly used letters are positioned where it's easiest to touch thumb to finger. On the back of the glove is a Printed Circuit Board that receives the signal and sends it via Bluetooth to the device you're operating.
They need to think of ways to chord the gestures or typing could become a very tiring affair. The University of Alabama details.
TAPE BURNS: Ripping off a sticking plaster may sting most of us for a moment, but for babies, the elderly and anyone with fragile skin it can actually pull off a layer of skin and cause real damage. And many people in those groups often use medical tape for respirators or other monitoring devices. Researchers have created a medical tape that's designed to leave skin intact when removed. Most existing tapes have a sticky layer attached to a strong non-sticky layer. The new tape adds a quick-release middle layer between the two. In tests on model surfaces the tape remained securely in place until pulled off, at which time it detached cleanly, leaving most of the adhesive strip behind. Sprinkle baby powder on the adhesive and it stops being sticky, then gradually wears away naturally. The researchers now need to test the tape on people. Those who simply don't like the sting will also appreciate this one. MIT News explains.
PATTERN RECOGNITION: If autism's diagnosed early interventions can be very successful in teaching useful social skills and behaviour patterns to children. Yet in the US the average age for diagnosis is a relatively late 5 years. Analysing video frame by frame is often used as an important diagnostic tool. That's why a new technique from the University of Minnesota is so important: software analyses video recordings to spot markers that may indicate autism. The software can analyse both home videos and recordings made during a professional diagnosis, and tests have shown it's very accurate. Such analysis may even reveal useful behaviour patterns that are currently hidden. Being able to analyse home video must be one of its most useful features. Technology Review has more.
REMOTE POSSIBILITIES: When US Navy personnel fired a missile from an inflatable hulled watercraft recently they hit their floating target about two miles away. But the boat was empty and the operators were on shore. The armed drone boat is the US Navy's first robotic surface vessel capable of firing a weapon, rather than simply spying or clearing mines. The 11 metre inflatable boat could be used to help protect the coastline or to defend against fast attack craft. Once both sides have robot craft, then what? Wired has further info. Video here.
Miraz Jordan, knowit.co.nz