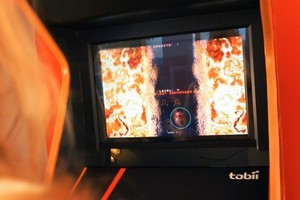 LOOK FAST: What kind of game controller do you prefer? How about if you could control a game just by looking at it? Eye Asteroids from Tobii Technology is an arcade machine that uses the Tobii IS-1-L Eye Tracker. Stand in front of the screen and it figures out where you're looking then shoots down asteroids threatening the Earth. Don't try this while drunk. Details at Tobii Technology and video here.
SPINNING VIDEOS: If you like to prop up your smartphone to video yourself you need to stay pretty much in one spot or else you move out of frame. The Swivl can follow your movements so that's no longer a problem. Put your smartphone or small camera in the slot and pick up the marker. The Swivl stand follows the marker to track you as you move around. The Swivl moves both horizontally and vertically, leaving you free to move as you need. Next it needs to be able to fly and follow. More information here and video:
here.
THE BOX IS MORE FUN: Fresh from North Carolina State University are polymer boxes that fold themselves into shape when a light shines on them. A flat pre-stressed plastic sheet is printed up with bold black ink, then cut to a pattern. When an infrared light, such as a heat lamp, is moved over the sheet the black lines absorb more energy than the rest of the sheet. They contract, creating a hinge that folds the sheets into 3D shapes. The width of the black lines determines both the angle and speed of fold. Wider lines contract more and fold to a bigger angle. By applying patterns of lines to both sides of the polymer complex structures can be created. Forget using this for wrapping items  —  it's a clear case of the packaging being the most fun. Boxing on at North Carolina State University; video here.
THE PRINCESS AND THE SLEEP SENSOR: Sleep sensors normally require the subject to wear an annoying headband or bracelet. A new model from Bam Labs though slips unobtrusively under the mattress. The sensor mat continuously detects heart rate, breathing rate, motion and presence and sends data wirelessly to an online server where it's analysed. The analysis is available via the web or a smartphone app. This means caregivers can easily monitor groups of people and watch trends while the sleeper enjoys their rest. Burglars could find the data handy too. Details at bamlabs.
8 TRACK RECORDING: Scientists at the École Polytechnique Fédérale de Lausanne in Switzerland created a computer system that can track and distinguish between multiple players in a sports match. It could also be used to track any groups of people, such as surgical teams or shoppers. The system uses eight cameras, while algorithms help track individuals by how they stand out from their surroundings, along with reading their jersey numbers. I doubt the shoppers will be willing to wear jersey numbers. Discovery News has more.
- Miraz Jordan knowit.co.nz