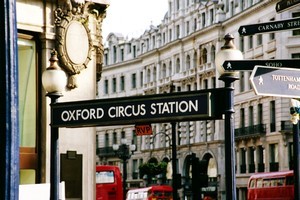 Those infuriating moments spent on the pavement waiting for your smartphone to download a street map, pixel by pixel, may soon be over, as technology companies push towards a future of free public wireless internet for all.
Virgin Media has announced plans to create a free wi-fi network to cover all of London, to compete with the often unreliable 3G mobile phone network and a patchwork of other wi-fi services.
In a speech to investors, Virgin Media's chief executive, Neil Berkett, said it planned to provide the service "in the not too distant future".
Virgin Media was in "quite advanced negotiations" with London councils over permission to install wireless routers across the city, he added.
The capital, like many other UK cities, is already served by BT Openzone, one of the largest wi-fi networks.
However, BT charges for access to non-BT customers.
Virgin's service would provide non-customers with a free but relatively slow 0.5 megabits per second connection - sufficient for email and basic web browsing - which would rise to 10Mbps for subscribers to Virgin Media Home.
The move is likely to raise eyebrows at BT, which which charges non-customers up to £5.99 for 90 minutes' access to its network.
Virgin's plan is part of a broader push towards providing the internet on tap for anyone, anywhere.
Last year, London's Mayor, Boris Johnson, gave his backing to schemes aiming to provide free wi-fi to the capital.
He called London "the home of technological innovation" and said lampposts and bus stops could be wi-fi-enabled using existing cabling.
Virgin Media aims to use existing roadside cabinets to house its wireless routers.
This week, the Mayor's office announced a plan to equip London's red buses with free wi-fi. Earlier this year, Transport for London said it wanted to install wi-fi hotspots in as many as 120 underground stations in time for the 2012 Olympics.
Outside London, cities including Bristol provide free wi-fi internet services, while "connected cities" schemes are commonplace in other countries.
Virgin first announced its interest in providing municipal wi-fi in November last year, when it said it was "actively exploring" plans to use its existing cable network to provide thousands of fast wi-fi hotspots across the country in a bid to keep up with booming demand for data on the move.
- INDEPENDENT