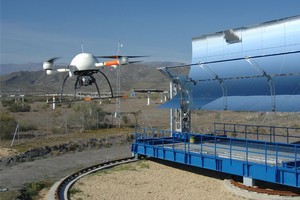 MINGLING WITH THE HERD: We're used to seeing footage in wildlife documentaries of herds of animals thundering across the Savannah as they're startled by the aircraft the film crew are flying in. German company Microdrones are offering a new way to film animals or anything else for that matter. Using their MD4-1000 model they've been filming in the Serengeti. The quad rotor device can fly for up to 70 minutes and carry a payload, such as a camera, of around 1 Kg. It beats using a huge lens from a far away Landrover. More at Microdrones' site; video here.
WASTED ENERGY: Canadian company Enerkem is setting up a new plant that aims to transform 100,000 tons of trash each year into ethanol. They collect household waste, pull out anything that can be recycled and shred the rest. They heat the shredded waste to 750°, trapping any hydrogen and carbon monoxide that escape. They filter out impurities and then convert the gases to ethanol. Trash power: full of potential. Details at Popsci.com.
LIGHT RELIEF: The University of Science and Technology of China in Hefei have been able to entangle eight photons and then manipulate and observe them all simultaneously. This beats the previous record of entangling six photons. They achieved this feat by using a very bright ultraviolet laser source that produces entangled pairs of photons more often than lower powered lasers. But we can't keep doubling laser power indefinitely. Details at Technology Review.
BIKINI BOOST: A New York designer has created a solar powered bikini that can charge your USB-based device, and you can even go swimming in it. Each bikini takes up to 80 hours to create and uses 40 flexible photovoltaic panels and conductive thread. Of course the cost of each bikini reflects the time and materials involved. A standard solar powered charger may be a better bet. Photos of the bizarre-looking bikini at Daily Mail.
SUPER TENT: Students from North Carolina State University designed concept for a 176 square metre inflatable living space that could house 6 astronauts on Mars. It's made from textiles. Some textiles protect from radiation, others use a polyurethane substrate to keep the air in, while yet another reflects UV rays. Shaped like a dome, any meteors should just bounce off. What about warmth though? And where's the Mars Rover parked? More details here.
- Miraz Jordan knowit.co.nz