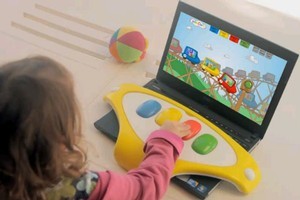 KEY KIDS: The Jumboard computer keyboard is plastic, large and has only 4 huge and brightly-coloured buttons. It fits above a regular
keyboard and interacts with the Jumboard website which has games for kids aged 1 to 4. The games are designed for learning and for fun. What, nothing for the under-ones? More at NoCamels and video on YouTube.
TRAINS THAT FLY: We've seen flying cars, so how about a flying train? The Japanese are experimenting with a robotic prototype of a free flying ground-effect vehicle. It flies just above the ground at up to 200 Kph, contained in a U shaped concrete channel. Inventive. More at IEEE and video on YouTube.
BIG WIND: The huge V164-7.0 wind turbine from Vestas Wind Systems is designed specifically for offshore locations. The rotor is 164 metres long; its annual output is 30,000 megawatt-hours - enough for nearly 2,800 households. These giants are intended for the North Sea. I'm sure the South Seas could use some too. More at TheAtlantic.
0 CARAT DIAMONDS: Diamond aerogel is only 40 times as dense as air. It's made by heating and compressing carbon aerogel. The transparent aerogel is tough, biocompatible and can be moulded like plastic. It could coat structures in the human body, or be overlaid onto glass and plastic for use in spacecraft. Light as air yet hard as diamonds. More at IO9.
OIL CHANGE: Bicycles usually use cables for shifting gears on a derailleur. An A-GE design from Acros handles it with hydraulics instead. When a rider pushes on the shifter paddle attached to the handlebars pistons push mineral oil through two tiny hoses and the derailleur shifts. Resistance is the same for every shift, and the whole setup is lighter than a standard cable system. Easier gear changes have to be good. More at Wired.
- Miraz Jordan knowit.co.nz