When Chris Barton attended Webstock, a conference for internet experts, he expected techy jargon and gung-ho enthusiasts. But what he also found were cutting edge concepts that could change things for all of us.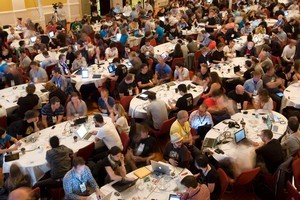 Webstock is a campfire - a digital one. So says graphic designer, teacher, writer and "creative person" Frank Chimero from Portland, Oregon at the opening of a fifth annual Wellington conference that's become something of a cult phenomenon.
Frank says we need to create "deep meaningful conversations on the web" and that we're going through a transition right now to make technology more human and less robotic.
To that end we need stories - as told around the campfires of old - and to get good stories we need to ask good questions.
Chimero is not the only speaker to offer such banal advice. Twitter creative director Doug Bowman - "an influential designer whose successful creations and strong convictions have pushed him to the forefront of responsible forward-thinking web design" - implores the audience to "embrace serendipity" and make the web "a more enjoyable delightful place".
But while such utterances prove beyond doubt that designers should stick to what they do best and never be allowed to speak in public, this audience doesn't seem to mind.
In fact they seem to be lapping it up - albeit while fixated on their lusciously thin MacBook screens or jabbing incessantly at their iPhone keypads. Participants around the digital campfire like to multitask.
The Webstock conference is undoubtedly about good design - epitomised by the Webstock bags signifying membership of an elite, very cool club. Indeed, everything about Webstock is beautifully designed - from the coffee to the name tags, the programme, the food, the entertainment and the speaker line-up.
The event is a tribute to the dedication of Natasha Lampard and Mike Brown, who against the odds, have turned a gathering of 40 or so web nerds six years ago into something that now fills the Wellington Town Hall and attracts a who's who of international speakers.
"They go out of their way to puff you up and make you feel like royalty," says veteran software engineer Michael Lopp, attending his third Webstock. "With all that positive reinforcement, as a speaker, you really want to bring your A-game."
Among the speakers are two musicians - Jason Webley, a punk accordionist and Amanda Palmer, a solo songwriter/performer whose claim to fame came with the punk cabaret band The Dresden Dolls.
Webley does everything himself - organising his bookings, recordings, publicity, etc via the web. "A little career like mine is able to find its niche in the ecosystem and quietly flourish."
He began with an emailing list of about 50 people . Today it numbers 35,000 and enables him to tour the world. But while he uses social media to communicate, he's not a big fan. "My brain doesn't work very well in blogging and Twitter. I like to be able to talk to one person at a time."
Palmer, on the other hand, uses Twitter a lot and has 500,000 "followers". She often uses it to organise impromptu free performances - sending out to fans to meet at a certain place or time.
When she was unexpectedly stranded in Iceland at the time of the volcano erupting, Twitter not only instantly found her a place to stay, but also enabled her to set up a gig within seven hours of her stranding.
She says the music industry still doesn't get the "unimaginable success" and goodwill that comes from providing fans with such spontaneously organised free concerts or sharing music for minimal cost or for free.
But while Twitter and other social media is integral to what Palmer does as an artist she also has doubts. She describes Twitter as "like living in a room above a noisy bar" and that while most of what happens is inane, there can also be "a profound connection".
Palmer recognises, too, that Twitter can also become all-consuming. And when she finds she can easily spend most of a day caught up in the "noisy bar" she wonders "how often it's healthy to be so distracted".
"What does she still wish for from the web?" asks one of the Webstock attendees. Palmer says what's missing is a single, simple monetary exchange. "I yearn for the day when it as simple as saying, 'sure, I'll give you a dollar'."
One who is developing a way to do just that is Peter Sunde of Pirate Bay fame - the world's largest file-sharing system, now the subject of a protracted copyright infringement trial.
About a year ago Sunde started Flattr, a "nanopayment" donation service whereby users can load a minimum of two euros a month into an account and make payments to others by clicking on Flattr buttons on their website, thereby "flattring" them for what they do.
Each month the money donated is divided by the number of buttons clicked and sent to the recipients, with Flattr taking 10 per cent to run the distribution service.
Users can withdraw their money when the amount reaches 10 euros. To date the service has about 100,000 users with about 40,000 active and has enabled some bloggers to earn as much as 2000 euros a month while other sites may get as little as one euro cent.
"I see Flattr as a natural extension of Pirate Bay," says Sunde. "Pirate Bay gives you the opportunity to share information for free, but there is also a need for something where you can share money as well."
Sunde says Pirate Bay was never just about things being free. "It was about an open society and Flattr is about extending the open society while funding it." He says Flattr is succeeding in so-called micropayments - an idea that has been around for decades - because it's not greedy.
"We force people to be open. If you're on Flattr, you can't lock content in. People are obsessed with price tags. The big difference with Flattr is we assume everything has zero as its price tag. And that everything on top of that is a bonus."
Almost every session of Webstock is about new possibilities on the web. Some are impossibly techy, sometimes with surprising language. Google senior developer, advocate and web legend Mark Pilgrim talks about the web markup language HTML5, which he calls "the thing". He warns his presentation is NSFW (not safe for work) and that if people don't like it they can GTFO.
His liberal swearing provides a lot of laughs but doesn't help my understanding - "these two, Autofocus and Placeholder, both work natively in four browsers". But the swarm of web developers attending hang on his every word.
More accessible is London-based author, "data journalist and information designer" David McCandless, who is transforming the world of infographics. McCandless says our culture has become more visual and "more design attuned" and that finding and presenting patterns behind data brings out a kind of inherent beauty in information. Through web interactivity he also makes data "playful" and enables information narratives not told before.
He sometimes goes to extraordinary lengths to get his data - on one occasion "scraping" thousands of Facebook status changes which revealed that most relationship breakups occur on or around Christmas Day or Valentine's Day.
McCandless hates the dreariness of traditional graphics - pie charts and bar graphs - and sees potential for beautiful information in everything from blood test results to complicated scientific or political concepts.
He is about to begin a follow-up to his Information is Beautiful book, but with a twist. The proposed Knowledge is Beautiful is going to be crowd-sourced.
"All the ideas, research, design - every single aspect - is going to be farmed out to an army of 1000 people online." In part, he says that's because he doesn't want to lock himself away as he had to with his other books - a process he didn't enjoy. But he's also curious about the trends of "cognitive surplus and crowd-sourcing" and wants to see if such creativity can be harnessed to generate something.
He intends to run the process like a video game where the more participants contribute, the more status they acquire and there may also be a virtual currency reward for input. "I want it to be a playful, fun experience."
The idea of creating something primarily for your own enjoyment is how Marco Arment got to where he is today - running Instapaper, a service that has about one million users and is growing steadily. The idea came about because Arment had a long commute to work, much of it underground and he wanted something to read.
In his daily web surfing he frequently came across in-depth articles that he was interested in, but which he never had the time or place to read.
So he created an application that let him bookmark the articles and then "time shift" and download them to his iPhone to read on the train. Eventually he showed it to few friends and then wrote a blog post about it and within 10 weeks he had 10,000 users.
Today Instapaper provides him a healthy income - with some 60 per cent of users paying for the iPad or iPhone "app" to receive the content for reading at their leisure.
And while everyone is telling him he should raise venture capital and take the project to the big time, Arment is happy to keep things the way they are - running it himself and contracting some aspects to others.
That includes a spin-off site - Givemesomethingtoread - where an editor selects five or so stories each day from a list of around 200 of the most popular among Instapaper readers. The service also disrupts the idea that nobody reads long stories online or that people are too time-starved to do so.
"The audience for long-form stories never went away," says Arment. "They just weren't being empowered to read on the web."
Stories like Arment's abound at Webstock - so much so one sometimes feels swamped by good idea overload. But it also shows an extraordinarily bright new future, a new economy where web geeks and nerds really are changing everthing.
What's in store for the World Wide Web
The Herald asked Webstock speakers to tell what coming things they were encouraged by and what had them worried
Michael Lopp
Silicon Valley software engineer currently at Palantir, worked for eight years at Apple.
ENCOURAGED
That the iPad has grabbed the imagination of a lot of folks. It's a new simplicity. I think there is something amazing there. I'm not watching my TV anymore because I have this thing in my backpack that I can kind of sit down and watch a show. All things are mobile right now. There is the cloud. I use Drop Box. It solved all my problems -having all your stuff sitting up there [on web servers] for you. All your stuff is with you wherever you go. That's a game-changer.
WORRIED
I worry about this Apple backlash thing, [its monopoly], but I also wonder why there isn't legitimate competition. I sort of root for Android because competition in smart phones and tablets is a good thing. There is this world with things constantly begging for you attention. All these distractions are a productivity hit to the planet. I'd like to see us focus on longer thoughts.
Kristina Halvorson
CEO of Brain Traffic and author of Content Strategy for the Web.
ENCOURAGED
That the conversation about content strategy has begun. Instead of organisations jumping on to the web and social media just because they can, organisations are starting to think strategically - about why they want to be there, or whether they should be there at all and what's involved in terms of resources and commitment to be there.
WORRIED
About content farms. Type "how to wash your cat" into Google and the top answers are from sites like YouTube, wikiHow, eHow, howtodothings, alttips, answerbag and so on. Based on mining algorithms from the search engines, many of these find very niche questions and post them on job boards so anyone can write answers and get paid $4. The content farms flood these sites with a variety of articles - so much so that it is almost impossible to get any sort of quality answers. Google says it's going to stop them but it's a huge challenge because it compromises the integrity of search results. They are like a cancer.
Tom Coates
Technologist and writer who has worked for the BBC and Yahoo, where he helped develop Fire Eagle, a location sharing service
ENCOURAGED
We now have software that reacts genuinely in real time. That can be sensors letting you know when they hit a threshold. Or the linking together of several services bringing much more responsiveness across the web. They can be location-based, so that when you get close to your house various things are activated or provide an immediate message if there is a break-in or fire alarm. We're moving towards a connected web of services - sensors in the real world writing data to services connected to other services.
WORRIED
Legal frameworks -like copyright getting endless perpetual extensions - that's a bad thing. I don't find the internet as enjoyable a place to play in as I did 10 years ago. It's puzzling that Google - a brilliant amazing intelligent extraordinary company - has decided to take every other major large company on. Browsers, mobile phones, operating systems, they're doing it all and killing competition.
Learn more about Webstock and their speakers
webstock.org.nz
onyas.org.nz