Matt Greenop has met the future of gaming - it's got a shady past.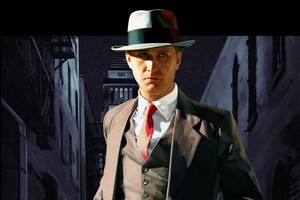 (UPDATE: LA Noire will be released in New Zealand on May 20, on PlayStation3 and Xbox 360)
Rockstar - acclaimed publisher of some of the world's biggest gaming "nasties" - is set to put a new face on videogames.
With the epic LA Noire, set for release in autumn on both next-gen consoles, the very nature of the genre required far more advanced facial modelling than previously seen in games - and with 300-odd actors and new, big-dollar technology, it could well be one of the most expensive games ever made.
LA Noire is set in 1947 Los Angeles and follows LAPD detective Cole Phelps, a returned war veteran, as he cracks numerous cases with a distinct film noir feel.
This is an unusual approach for a game company best known for its much-maligned, extremely violent, Grand Theft Auto series, but Rockstar did make a cowboy game, Red Dead Redemption, one of last year's most successful titles against all expectations.
A preview of early LA Noire game code this week showed a carefully paced game set across nearly 12sq km of Los Angeles, faithfully recreated to provide a near-faultless gaming environment. Sydney's well-respected Team Bondi studio reportedly spent hundreds of hours assembling information, footage and photos to make the City of Angels appear accurate as the cheesy, violent, corrupt world that revolved around Hollywood's silver-tongued promises.
It's all there - the advertising hoardings, the massively overblown movie sets, the lumbering 40s Studebakers and Oldsmobiles, the machine gun-toting gangsters, the smoke-filled diners and, of course, the wildly clever detective with a mysterious dark past and very leggy femme fatales.
Although it includes some Rockstar staples - like lengthy, albeit skippable, driving missions and frantic gun battles - the core of the game puts players in the position of investigator and interrogator. And this is where the hugely impressive new MotionScan technology came in.
Despite the era of high-def games and big-screen TVs, wooden characters with bad lip-synching are still unfortunately common in some videogames.
But LA Noire needed something more, and when players slip into the shoes of Cole Phelps (acted by Aaron Staton, one of the razor-sharp ad execs in TV's Mad Men), it's the facial expressions and behaviour of suspects that dictate which tack he takes during questioning.
Reading a look incorrectly could lead Phelps down the wrong path and radically alter the game's progression.
MotionScan uses numerous cameras situated around each actors' head to map expressions and movements in extreme high definition and minute detail.Then actors pull on a comfy motion capture suit and go through the same scenes over again, and this time their whole body is mapped.
The two sets of images are then pulled together, meaning no lip-synched dialogue, and no choppy results that look like poorly dubbed 1970s kung fu flicks.
And we all thought The Hobbit made things hard for actors.
In this week's demo, which sported near-finished graphics and most of the surround audio track, LA Noire proved to be the most grown-up title that we've seen out of the Rockstar publishing machine.
The case demonstrated by Rockstar's Sydney team was called The Fallen Idol, and kicks off as a simple car crash before turning into a seedy statutory rape case involving an aspiring actress who's runaway from home, dirty movie producers with busy casting couches, a bitter ageing actress, hidden camera porn blackmail and, wait for it, gangsters with guns.
Our intrepid detective uses his ever-present notebook full of leads and evidence (a very handy progress record) and keen people-reading skills to dig his way through the lies. Failing that, he uses a Colt 45. Truth be told, this and the many other cases aren't likely to see LA Noire escaping with much less than an R18 rating.