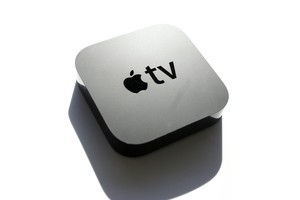 I liked the last, big (by comparison) white version of the Apple TV to use. It looked like a Mac mini and had a built in hard drive. It worked well.
But basically, it was a little expensive, looked ugly by the black LCD TV, and the selection of movies available was not fantastic.
The new model, which Apple lent me for a fortnight, certainly addresses some of these criticisms. It's much smaller, black (which definitely suits those living in Grey Lynn and Newtown, at least) and has moved to a fully-streaming model. There's no hard drive in it, which also means it's a little less susceptible to physical knocks.
To set up, plug in an HDMI cable and power, put it on your wireless network via the Apple Remote and the on-TV prompts (you can jack ethernet straight in, if you prefer) and you're good to go.
With a hard drive, the movie loaded up and played from there, for lovely, skip-free movie playing. No hard drive means it's relying on NZ internet speeds to stream movies from servers which are ... who knows where?
Buying or renting a movie directly from the selection available via the Apple TV results in a 1-3 minute wait before the movie starts playing. This is pretty impressive - I expected at least ten minutes. Downloading a rented movie into iTunes on your computer, after all, can take 20 to 30 minutes.
I also tried renting a movie into iTunes on my Mac, to see what streaming that to the Apple TV was like.
I unhooked my MacBook Pro its Ethernet cable to both test Apple TV's network effectiveness over wireless and so I could sit in front of the TV and the Apple TV while writing about it - funnily, the Apple TV remote fired up Front Row on the MBP and worked that at the same time as it worked the menu items on the TV via the Apple TV! Woops.
I had turned on Home Sharing (it's in iTunes' Advanced menu) on my MacBook Pro. This immediately put the MBP's library in the Computers' list on the TV screen. Headings are Movies (that you hire or buy directly via Apple TV), Internet (lets you watch YouTube etc) Computers (anything on the same network and with Home Sharing turned on in iTunes) and Settings.
Settings lets you configure the screen saver etc. You can even train your existing TV's remote to be the Apple TV's remote.
No Movies ... oh, but of course - my iTunes library is hosted on an external hard drive because I don't like carting large numbers of songs and movies around on my portable. So I plugged the hard drive back into the MBP and, rather incredibly, 16 seconds after I pressed Play on the remote, the movie started.
Bear in mind this is a movie on a USB2-connected (via a USB hub) hard drive streamed over my home wireless system. I think that's pretty impressive.
One of the excellent things about the Apple TV is the remote - not just the Apple Remote, which is small and feels nice in the hand and is ridiculously easy to use - but the Remote app on iPhone, touch and iPad. It's particularly good on the iPad, although often you get a lavish expanse of screen with not much on it.
The good part is searching the net - for example, hunting YouTube videos. This is possible with the hunt-and-peck aluminium remote, selecting letters in turn on an on-TV keyboard and pressing the middle menu button to enter, painstakingly, each letter in turn. Not so hard, but when you're a ways along and you notice a typo ... aargh!
But with an iDevice you can use the keyboard, which is way, way easier.

Generally, the new Apple TV is cute and easy to fit into your lounge or workspace. It's responsive, and streaming, I have to say, works way better than I expected. And it's not even that expensive ($170), although it once again ties you into spending money on Apple every time you want to watch something that's not online. Of course, any movie in any of your iTunes libraries, presuming you know how to convert them for that (iMovie lets you share straight to iTunes), is now available.
No ore burning DVDs to watch that home movie - which rather affirms the point that Apple is not supporting Blu-ray.
To my mind, there's only one thing that really lets this down: selection.
I sat down and counted all that's available on 4th November 2010: Action & Adventure 346, Classics 115, Comedy 336, Documentary 13 (!), Drama 97, Horrow 139, Independent 13 (!), Kids & Family 164, Music 50, Romance 102, SciFi & Fantasy 55, Sports 60, Thriller 135 and Western 50.
I make the total 1675, if there are no crossovers (I didn't notice any, but I didn't specifically look).
Now, I live in a fairly serious household of academically-inclined women - for this house, Indy and Docco need to be a lot more fleshed out than this. If I sat down and was bored and the Apple TV was beckoning, there are probably about 40 movies I might watch from this selection. Add in my teenager's predilection for horror and you can add another 10, maybe (since she's seen most of them in the Apple TV range already).
Documentary - I was a bit shocked at the paucity here, since this is a rich category. It's easy to suspect Apple is shying away from the controversial. There isn't much overtly sexy in the range, either, although you might find it a bit odd that Apple's Action and Horror categories are well fleshed by comparison. But I don't actually know what the policy is, if it's really just a matter of availability and supply contracts. That said, I'm sure the selection in the US is far greater than in NZ. Does anyone know?
Quality wise, it's not full 1080p even when you stream the 'HD' version of movies. There is notable gradation on colours, although detail is crisp enough. Since Apple is shunning Blu-ray for this movie streaming model, I can't see it satisfying those who want full 1080p and have the home rigs that appreciates the extra pixels. I also noticed two split-second frame jumps in a 2-hour movie.
Would I buy one? Not yet. Unfortunately for Apple, I have a Fatso account. I pay $30-odd a month for three movies at any one time, and Fatso's range covers 24 genres, not 14, broken down further into Animé, Independent and Festival as well as Foreign as well as Cult, and crikey, there's even Gay and Lesbian. Send a movie back and a day or two later, the next one in my queue appears in my letterbox. Fatso is one of the few positive notes for NZ Post, I reckon.
On the down side, sometimes the DVDs are scratched or damaged. This is most frustrating, in the middle of an engrossing movie. On the upside, DVDs have extras (great for the Media Studies of the teenager) and Apple TV movies don't.
Fatso has thousands of movies and, although I sometimes can't find something, mostly I am more than happy. (I inquired as to how many, roughly, after looking on the site and finding no figure, but I have still to receive and answer).
Positive for Apple TV - it's really convenient hunting for a movie right on your TV, and being able to watch it just minutes later. The quality is fine for me (I don't have a massive home entertainment system - just a TV). It's really cool being able to watch previews both of the movies available, but also recent releases that aren't on Apple TV yet. It's awesome for watching slideshows on - better than making people crown around your laptop.
And when Apple's movie range expands by at least three times, yeah - count me in.
- Mark Webster mac-nz.com