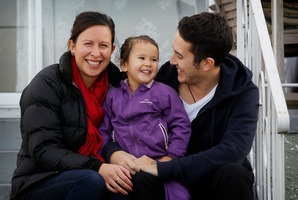 Kahurangi Maxwell carries a dictionary wherever she goes - the result of having a curious toddler and a decision to speak only te reo to her daughter.
The decision to become a single-language household is one for which the young mum and her partner, Chey Milne, both in their 20s, have been criticised.
"One of the biggest things in our lives is te reo Maori, and since Atareta was born we've been adamant we want her to be raised in te reo Maori. That's been our priority.
"She's coming up [to age] 3 in August, and the only language she speaks is Maori. We carry around dictionaries because she's becoming really inquisitive and she'll go, 'what's that?' and we'll go, 'Oh geez, what is a microwave?'."
Both parents were the first in their generations of either family to learn Maori. They want their daughter's world view to be Maori first and foremost.
But although she has supportive friends and family, Ms Maxwell has had to explain her priority to strangers who take issue with it. She is a lecturer at Te Whare Wananga o Awanuiarangi and is planning to research how te reo can be normalised.
"I thought about how society judges te reo Maori and why is it such an issue. Why is it frowned upon? Why is it not okay to raise a child in te reo Maori, like we're setting them up for failure?"
The wider Maxwell family has varying levels of competency in te reo Maori, and has instituted its own language plan. They meet once a week for dinner, and during it speak only in te reo. "It's very elementary and it's hard sometimes - we'll have big long silences and people are sitting there going 'uuummm'. They're trying to find how to communicate. Normalising language within our whanau is a start."
Still, she realises the difficulties some kura kaupapa graduates have faced in practical situations where there are requirements for English. It's an issue for which she doesn't have any easy answers. Mr Milne says it's inevitable his daughter will pick up English as it surrounds her outside the house. He's more strident than his partner about using only te reo.
But there are challenges. "Both Kahu's whanau and mine are raised in the Maori world and know Maori things, but they'll speak to Atareta in English.
"There's a fine line; you don't want to tell your whanau, 'Ah, actually we don't want you to speak English'. We don't want to make them feel stink."
Translation
Ka kawea haerehia e Kahurangi Maxwell tana papakupu i nga wahi katoa ka haere ia - i te mea he kohungahunga uiui tana, me te aha me tana hiahia kia reo Maori anake te reo korero ki tana tamaiti.
E whakahehia ana ta raua whakatau ko tana hoa, a Chey Milne, kei nga tau 20 raua, kia kotahi anake te reo i te kainga.
"Ko tetahi o nga mea nui i roto i to maua ao ko te reo Maori, a, i te whanautanga mai o Atareta i pumau maua kia whangaihia ia ki roto i te reo Maori. Koina ta maua whainga matua.
"Ka eke ia ki te 3 tau a te Here-turi-koka, ka mutu ko te reo Maori anake tona reo. Ka mau papakupu maua i te mea he tamaiti mahira ia, a, ka patai ia, 'he aha tera?' Kua ki ake maua, 'Ai, he aha te microwave?"'
Ko nga tokorua nei nga tuatahi o o raua reanga o o raua whanau ki te ako i te reo Maori. Ko to raua hiahia kia tino Maori tona ahua i te tuatahi.
Engari ahahoa nga tautoko a ona hoa me tona whanau, ka mate tonu a Ms Maxwell ki te whakamarama i tana whainga matua ki te hunga tauhou e whakahe ana i tenei.
He kaiako ia i Te Whare Wananga o Awanuiarangi, a, kei te whakarite ia ki te rangahau me pehea te whakawaia noa i te reo.
"I whakaaro au mo te whakawa a te iwi whanui i te reo Maori, a, he aha te take e tino maharahara ai ratau? He aha e whakahetia? He aha te take kaore i te pai kia whangaihia te tamaiti ki te reo Maori, ano nei kei te arahina atu ia ki te ngoikoretanga?"
He rereke te kaha o te reo Maori o te whanau whanui Maxwell, a, kua waihangatia e ratau ta ratau ake mahere reo.
Ka tutaki ratau ki te hapa kotahi wa i te wiki, a, me korero anake ratau i te reo.
"He tino mama te reo ka mutu he uaua i tetahi wa - he roa te mumu me te aha me te noho i kona me te 'Ummm' haere; kei te ngana ki te rapu korero. He timatanga ki te whakawaia i te reo i roto i to matau whanau."
Heoi ano, kei te kite ake ia i nga uauatanga ka pa ki nga paetahi kura kaupapa e pa ana ki nga ahuatanga whaitake mo nga whakaritenga mo te reo Ingarihi. Kaore ana whakautu mama ki tenei take.
Hei ta Mr Milne, kaore he karotanga mo tana tamahine i te reo Ingarihi i te mea e pokea ana ia i nga wahi katoa i waho i te whare.
He rengarenga ake ia i tana hoa mo te whakamahi i te reo.
Ahakoa, kei reira tonu nga whakapataritari.
"I whangaihia o maua whanau ko Kahu i roto i te ao Maori me te mohio ki nga ahuatanga Maori, engari ka korero Ingarihi ratau ki a Atareta. He uaua - i te mea kaore koe i te hiahia ki te ki atu ki to whanau, 'A, kaore maua i te hiahia korero Ingarihi.' Kaore maua i te hiahia ki te patu i o ratau wairua."