Fresh out of their first SXSW experience, Electric Wire Hustle - Mara TK, David "Taay Ninh" Wright and Myele Manzanza - will be basing themselves in Berlin for six months with three main goals: getting more shows in Europe, releasing their second album and having a decent crack at America. This is a seriously driven group of young men - who are building a serious global following.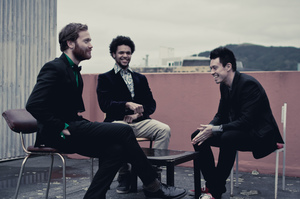 "First I miss JayZ. Now I'm going to miss @E_W_H ... que puneta."
"Sometimes the best @SXSW experiences are the least expected. Follow @E_W_H Electric Wire Hustle from NZ. Not to disappoint."
"Our favourite act last night at #SXSW was Electric Wire Hustle, Kiwi-soul purveyors from NZ. Check 'em out!"
"SF! ATTENTION! RT @HipHopCoolAgain: Electric Wire Hustle (@E_W_H) live at @yoshisjazz SF 3/22/12!! #newzealand"
Music has always been about connecting. Connecting with your audience and with other like-minded folks. Independent artists will acknowledge genuine connections are vital to continuing any kind of career, particularly when negotiating the sharks and trolls that inhabit the music industry. Individually and collectively, Electric Wire Hustle's ability to connect with people from across the globe - allied to their vibe-heavy psychedelic soul sound - sees them standing on the verge of big things in 2012.
For a group of young men making music that is distinctly fresh and forward-thinking, their pragmatism is fitting.
Speaking about the next six months of their lives each of the band members is clear-headed about what they want to achieve.
"It costs a lot to go and do this," says singer and multi-instrumentalist Mara TK. "It requires big investments of time and resources, but it is an investment and we're still in the investment stage of building our business."
"Part of basing ourselves in Europe is to try and get over to the States if any other possibilities pop up," continues multi-instrumentalist Taay Ninh. "Now that Europe's starting to build into a good thing for us, we're hoping we can get to that stage in the States as well, and try to establish ourselves with an agent and get some more shows."
"That was one of our goals for SXSW," adds drummer Myele Manzanza, "trying to find a good agent or some decent representation, someone who's on the ground and a bit more connected than we are."
"We've met people who were following us since pretty much day dot!" says Taay excitedly, "which just goes to show how quickly the music can travel. People are finding it. While music may not be selling as many units as it used to, the cycle's still working - just in a different way."
EWH is well aware of the "cycle" and they've been working hard on having new music to perform, record and release. After spending six weeks together in Wellington prior to SXSW, they'd amassed a wealth of material, which they're looking at filtering through while living in Berlin. As for encountering problems with the close-quarter living arrangements? Their pragmatism shines through once more.
"It's a good unit," says Manzanza, matter-of-factly. "I guess the trick is just to allow everyone their space when it's time for that, and when it's time to be sharp and be on the ball, then be on the ball!"
"This will be the longest we've been away collectively focused on the band," says Taay. "I'm excited about getting to Europe and concentrating on all of this, and working through the musical ideas we threw down for the album. It's pretty eclectic!"
"A couple of people have said it's fruity," says Mara TK. "I don't think it's fruity; it's more like three distinguishable styles. Myele's producing more on this album and I think all three of us have been listening to quite different things for the last little while, so that has certainly seeped into the sound."
"We don't have any guidelines to follow," explains Taay. "It's instinctual and at the same time it comes out in our discussions: 'Is this us?' But even asking that question's a bit abstract because we feel that we're evolving. We haven't moulded it to the point where we're like, 'okay, cool, this is us'... Yet!"
Five SXSW shows in three days (in their own words)
"SXSW is crazy, there's no doubt about that," states Taay. "It really feels like the centre of the musical universe for the period that it engulfs Austin. And Austin seems to wholeheartedly welcome being engulfed!"
SHOW ONE
First up is the Yours Tru.ly showcase (our fam from San Fran). We've been warned of potentially small crowds, but it's packed and the reception is warm. See B-Bravo and The Starship Connection live and meet Coultrain (Hawthorne Headhunters, PPP), which is dope.

SHOW TWO
Our friends Mint Collective and Grown Kids Radio (Bay Area). Amazing setting in a beautifully designed space. I'm distracted by the view and the handmade T-shirts we're given. There's a good vibe here and the lineup is tight. We try to perform the hell out of our show after Alice Russell smashes it with San Fran's legendary The Park.
SHOW THREE
The Couch Sessions. Now we're out in a tent on the other side of town. Some big names on the bill with us. We put on a good show and convert some new fans. Hang out with The Step Kids after and talk donuts and a get-together in New York.
SHOW FOUR
New Zealand showcase. Feels like home. King Kapisi slays it and so does Cairo Knife Fight and Avalanche City after us. We put on a tight show, and while the crowd is more industry it feels good as we walk off the stage. Shout out to Gary Fortune and the New Zealand Music Commission.
SHOW FIVE
The plush Driskill hotel and the Style X showcase. With under an hour before start time things run really tight - too tight - and a keyboard is caught in traffic. We have to make do with one. Maybe it's the last show. Maybe it's resigning yourself to the fact it's not going to be perfect and that's just the nature of SXSW. Maybe it's the body seeing the finish line and some potential rest? We give it our all and let go of all the rigmarole that's surrounded getting here and being here. We play the hardest we've played and it's acknowledged by the whole audience, which is rewarding. Meet some great people afterwards and there's talk of more things to come, including yet another Miller Light (much to everyone's delight).