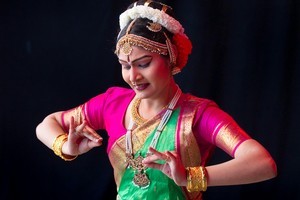 Neha Vishnubhotla from the Anuradha School of Indian Dances performs a classical Bharatanatyam dance for the Diwali Festival of Lights celebration.
Held at Aotea Square at the weekend, the two-day event included numerous traditional performances, food and workshops for the annual festival.
Diwali, one of India's best-loved celebrations, is an ancient Hindu festival that symbolises the triumph of light over darkness and the renewal of life.
In India and for Indians abroad, Diwali is a time for celebration with families lighting lamps, candles and fireworks to symbolise the triumph of light over darkness, good overevil.
This year's festival was the 10th to be officially celebrated in Auckland and ended with a fireworks show last night at Aotea Square.