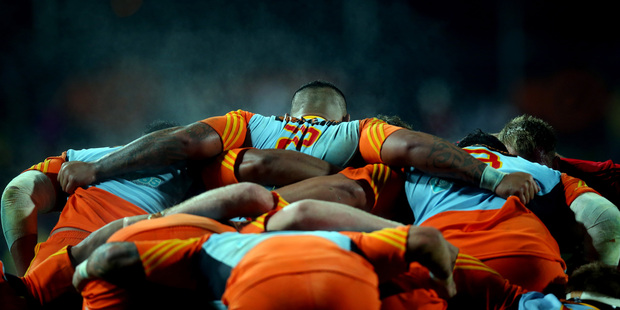 The question was whether the Chiefs can get better. The answer from coach Dave Rennie was a definitive yes. And it wasn't just the usual bluster coaches feel compelled to spout.
There is a glaring deficiency with his side; it's been apparent all year and got worse in their brave and inspiring win against the Crusaders. The Chiefs top the table for tries scored, clean line breaks and defenders beaten but are 14th (and will probably drop to 15th) in their ability to retain possession.
That's the curious thing about the Chiefs - they managed to look every inch the champion side in Hamilton on Friday night and yet they can't get one of the most basic elements right. They can't hold on to the ball for as long as they would like.
"I think when we play against the more high-profile defensive teams - the Crusaders are up there and the Stormers are right up there - we have been able to apply pressure and score. The biggest thing for us is probably the amount of possession.
That's one of the key areas [we need to improve]. We just need to treasure the ball. We made a couple of line breaks when we needed to hold on to it. Pauli [Pauliasi Manu] threw a pass that wasn't on and it got intercepted. Robbie [Robinson] threw an offload that wasn't on - so that was the pleasing thing about Bundee's [Aki] try. Lelia [Masaga] got us go-forward, we got a quick ruck and we played off that.
"If we can look after a bit more possession - and we were ranked 14th coming into this game - we can certainly put teams under a lot more pressure."
What will undoubtedly help the Chiefs make the improvements they are after is the return of most of their squad during the four-week break they now face. They have the bye, followed by the three-week hiatus for the June tests.
The Chiefs had planned to tour Argentina in the break but that has fallen through. While accepting it's not ideal, Rennie is partly relieved to be without games or travel and have the opportunity to rest, recuperate and recondition his squad.
It was post-June that the Chiefs lost a little momentum last year. They suffered consecutive losses to the Crusaders and Hurricanes - and as fate, or Sanzar, would have it, they face the same two opponents when they return. They will finish against the Blues at Eden Park and, with four points assured next week when they sit out, they will hold their New Zealand Conference fate in their hands - victories in local derbies see them gain at the direct expense of those chasing them.
They will go into the break a guaranteed minimum of five points ahead of their nearest chasing New Zealand rival and the relative comfort of that position and their developing form has left them satisfied they are in about as a good a place as they could possibly have expected.
"We do actually talk about how we sit on the table and look at situations about who plays who and if we beat this crew what happens to the gap, we have at the top," said captain Craig Clarke. "It does reinforce the importance of doing your part. You want to win your games so you get the outcomes you want.
"We are pretty satisfied at how we have built and we have built a bit of momentum. Going from the Reds and Waratahs game, we struggled a little bit but then we got a win against the Sharks and the Rebels. We weren't perfect but we were doing enough.
"Against the Hurricanes, we did slightly better and found our defensive mojo which culminated in tonight. We weren't perfect again but we are getting things right more often than not."