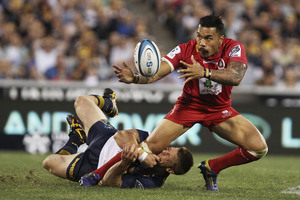 A stand-off between rugby bosses and Digby Ioane shows no sign of easing, with Queensland officials now saying they want to get to the bottom of suggestions the Wallabies winger has been shopped around, contravening his contract.
Ioane has told the Reds he wants to leave at the end of this season - a year before the end of his three-season deal - because of a third-party payment dispute.
QRU chief executive Jim Carmichael is leaving the door open for Ioane to discuss the situation.
But he also says Ioane's manager Anthony Piccone will get a legal letter within days, asking whether the Reds flyer has been offered to rival Super Rugby sides.
"We see that as a breach of his role and we're pretty clear that we have a contract," Carmichael said.
"The contract is very, very explicit in protecting the integrity of the code and the parties, the province, the ARU and the player.
We'll be wanting to get clarification."
He's hinted the simplest way for Ioane to avoid playing for the Reds next season would be to inform the Australian Rugby Union he doesn't want a contract next year.
"On a number of occasions, the ARU has confirmed we are not in breach of any parts of our contract and acknowledged our right to enforce it," Carmichael said.
"The ARU would like to work with the parties for an amicable solution [in Australia] but, at this point, there is not any possibility from the QRU's perspective that Digby will be playing for another club in this country next year."
Carmichael said he didn't consider his position mean-spirited, insisting there was a principle at stake.
"I've got to live with my decisions. At some point, we all have to work towards the integrity of contracts," Carmichael said.
- AAP