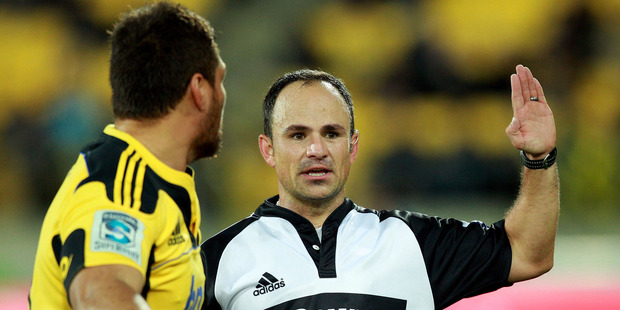 Having South African referees control tonight's elimination Super 15 matches is not a good fit.
Jaco Peyper starts the evening when he whistles the Crusaders' match with the Bulls before Jonathan Kaplan takes charge of the Reds' home game with the Sharks.
We're supposed to have moved on from the need for neutral referees and that does make more sense when administrators are juggling their available list of qualified referees for pool matches.
Sorting out some of those arrangements is difficult enough with the lack of top-drawer arbiters, lopsided draws and travel factors which have to be worked around.
But when it comes to sudden-death playoffs, the referees should be neutral. An Australian should have been in charge of the first game tonight and a New Zealander should have been blowing the whistle across the Ditch. Their lead should come from World Cups and other top-level events like the Tri-Nations.
Independent referees are used for all those games.
If Sanzar wanted to balance the tournament's credibility against some of the lopsided pool arrangements, they should have appointed neutral officials.
The tournament's game manager, Lyndon Bray, said his team of assessors had identified a quartet of referees who would be used in the playoffs but he didn't identify the two who would be used outside Peyper and Kaplan.
Presumably, Craig Joubert, who controlled last year's World Cup final and has been in strong form this season, is one while the other may be the transtasman's finest Steve Walsh, with Mark Lawrence or Glen Jackson in reserve. New Zealand's Chris Pollock would have been in the mix but he is injured.
To reward Kaplan with a game involving his countrymen so soon after his poor decision to sinbin Hurricanes prop Tim May for a tackle on Sonny Bill Williams suggests a very lenient appointments committee, a poor list of contenders, a blinkered view or some bizarre idea about keeping better men in reserve.
If neutrality doesn't matter a fig, then Joubert and Peyper fit the best ref option. However, Peyper was in the middle of the spiteful game between the Bulls and Crusaders in Pretoria earlier this year as penalties and accusations of eye-gouging littered the match. Sanzar would have been well aware of that history and could have pulled Walsh in to adjudicate in Christchurch while Jackson could have been promoted to run the game in Brisbane.