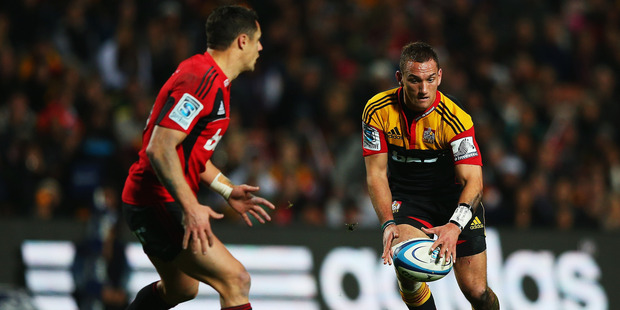 Two men will determine the destiny of this year's Super Rugby title. There will be talk about the battles up front, the need for set-piece supremacy and all the usual hard-nosed attributes to be present - but the next few weeks will be shaped by the respective talents of Daniel Carter and Aaron Cruden.
Just as the French have their mantra "no scrum, no win", maybe Super Rugby needs to develop the idea, "no 10, no win".
Test rugby is all about winning the ball: Super Rugby is all about using it and in Cruden, the Chiefs have the best playmaker in the competition. In Carter, the Crusaders have the best all-round No 10.
Of the likely qualifiers, Quade Cooper is an impish runner - magical at his best as he showed last year, but short of match sharpness after injury.
Morne Steyn has steered the Bulls to three titles but his skills are at their most influential in Pretoria and home advantage has all but escaped the South Africans.
Peter Grant (Stormers), Freddie Michalak (Sharks) and Beauden Barrett (Hurricanes) are good players, but not championship men.
The Brumbies can almost be discounted on the basis they were not so long ago contemplating persuading Stephen Larkham out of retirement.
History is definitive - the title is won by the team with the most influential first five and that leaves 2012 as a head to head between Carter and Cruden: a 'master and apprentice' scenario of sorts. Yet for much of 2012, Cruden has had the more impact, been the better player.
Friday night's clash in Hamilton provided a distorted picture in one sense: the capitulation of both the Chiefs' scrum and lineout negated Cruden's running game. There was no platform, therefore there was no magic but Cruden's ability to win games - to dominate over the next three weeks - can't be dismissed.
Tom Coventry will fix his forwards this week and with quick ball Cruden will restore the Chiefs to their deadly attacking best.
That's what he's done all season and he has the mental strength and composure to assert himself in pressure games.
Analysis of the Chiefs this year has been in-depth, citing myriad factors, but so much of it is down to Cruden: he's a serious upgrade from Stephen Donald and he's been critical in bringing the best out of Sonny Bill Williams.
Cruden drifts past the first defender and scurries across the turf to find his way past onrushing loose forwards and the like. That ability to take the ball flat and be over the gainline in a flash has been the key to Williams being so effective.
Cruden brings him onto the ball and entices him into holes. And just as Cruden has done much for Williams, so too has Williams done much for Cruden. The Manawatu first five is barely 85kg and yet he not only relishes the contact, he's become adept at magically off-loading out of it.
Such has been his influence this year that it's hard to equate Cruden now with the player he was even two years ago.
And it is Manawatu, or at least the connection with the province's former coach, Dave Rennie, that has been instrumental in driving Cruden's game to these new heights.
Rennie gave Cruden his first break back in 2008 when he picked the then 19-year-old for Manawatu and the two worked together the following year as coach and captain of the New Zealand Under-20s.
"I have been given a leadership role up here and I have really enjoyed trying to help out the team a lot more," Cruden said of his shift to the Chiefs.
"I love the way he [Rennie] coaches," said Cruden. "I see him as a bit of a mentor.
"He gave me my first opportunity in Manawatu and he obviously saw something in me.
"It has progressed throughout the ranks in different ways and what he has done with the Chiefs is amazing this year and a lot of the boys seem to react well to his coaching style.
"Rens just has that aura about him. He's able to put people at ease. He's always talking to individuals about their game and about their off the field life as well."
But while the picture may have been distorted in regard to Cruden on Friday night, it was crystal clear in the vision it portrayed of Carter. The great man has built slowly since returning from injury but his influence in Hamilton was enormous.
These are the games he lives for; games where he takes control, runs through his full repertoire and leaves no one in doubt of his command of the basics.
Carter was somewhere near his imposing best.
He delivered the complete game: composure, goal- kicking, defensive clout, tactical awareness, faultless decision-making and even his new trick of dropping goals.
In that form, the Crusaders needn't fear playing in Pretoria, Cape Town, Canberra or Hamilton. It won't matter, Carter will wield his influence and steer his side to victory.
Take your pick - Carter or Cruden and forget about everyone else.