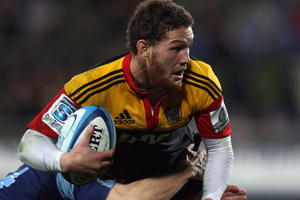 The Chiefs' 27-21 win over the Highlanders will struggle to be filed under 'M for mesmerising' in rugby's archives.
It's more likely to go under 'C for consistent' - a case of same crew, little new. The Chiefs deserve to top the table with two rounds left.
Combinations struggled after the team had to rest a number of their All Blacks starters against a Counties Manukau/Bay of Plenty composite XV midweek. Some players had to build back to match fitness after a three-week break, some didn't.
A lack of polish underlined the Chiefs' efforts as a result, but their defensive courage remained, particularly as the Highlanders surged into their territory at the end.
The Chiefs gave every indication they've built the momentum required to win a championship.
Combine that with their ability to ignite try-scoring counter-attacks, as happened with Robbie Robinson and Tim Nanai-Williams.
Soon-to-be-ex-Chief Sonny Bill Williams literally played a key hand in most key attacks. His googly passes are difficult to defend against.
If Colin Meads is patron, Williams is chairman of the Solo Mitt Hall Of Fame.
The Chiefs will miss him but at least he'll finish the Super Rugby season before resuming his quest to be the world's greatest cross-code athlete.
Two other areas influenced the Chiefs' victory.
The first was halfback Aaron Smith having a rare sluggish game in a Highlanders jersey - make that any jersey - this season.
He showed uncharacteristic hesitancy at times and it looked like three weeks in the All Blacks camp had taken its toll.
His opposite, Tawera Kerr-Barlow, appeared to have the better of him. Kerr-Barlow's pass looked crisper, which is saying something, given the way Smith has bulleted the ball this season.
The Chiefs No 9 also harassed Smith well. An example was snaffling a key ball off him which led to Nanai-Williams' opening try.
Smith's hands reached for his head in exasperation at times. However, he was put under more pressure by the Chiefs than he was by the Irish in last week's third test.
In contrast the Chiefs excelled through the workrate of lock Brodie Retallick. The new All Black looked to have benefited from three tests against Ireland.
His controlled aggression at the set piece and rangy fitness supporting ball-runners were notable. The 21-year-old capped his performance with a well-timed pass to put Robinson in space and complete a rare attacking opportunity in the first half.
Retallick was matched by Chiefs co-captain Craig Clarke whose level head has been a catalyst in their success.
He was handy dismantling Highlanders' lineouts and a core of the Chiefs' cover defence, especially in the final throes when the opposition could get no traction because they were swamped on the advantage line.
If there was one flaw in Clarke's game it was tapping a scrappy ball from a lineout 10m out which led to the Andrew Hore try.
After a prolonged period, Hore's hands came through to score from what looked suspiciously like a ruck.
The Highlanders' ill-discipline also cost them at the scrum and breakdown. Aaron Cruden's boot is not to be tempted in its current goal-kicking form.
Highlanders 21 (A. Hore, H. Gear tries; C. Noakes 3 pens, M. Delany con); Chiefs 27 (T. Nanai-Williams, R. Robinson tries; A. Cruden con, 5 pens). Halftime: Chiefs 18-9.