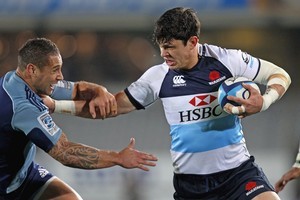 What a pleasure to see Ali Williams looking somewhere near back to his best in the Blues' win over the Waratahs.
He did a big job in the lineouts, did a heap of work clearing out and backing up and his try was evidence that he is getting closer to the all-action figure he used to be.
But it seems as soon as the Blues get some good news at lock, they cop some bad as well. Anthony Boric's injury could be a telling one as I think it is in the tight stuff that the Blues need to improve.
Some will say that the match wasn't much of a spectacle and there was too much tight stuff going on and not enough beating of defences - but, if you look at what happened, the Blues pack had it all over the Waratahs'.
They had their No 1 front row of recent weeks, with John Afoa, Keven Mealamu and Charlie Faumuina all going well. Williams and Boric combined nicely and Jerome Kaino and Luke Braid were huge in the tight-loose stuff.
So why did it take them so long to get the scoreboard to reflect that dominance? They need to step up their efforts in the tight and capitalise.
The Waratahs' defence was good, of course (and so was the Blues' for most of the game), but the Blues just didn't turn the screw up front when the chance was there.
They will know themselves that if they play like that next weekend - no matter who the opponent - they stand a good chance of coming second.
Their playmakers also need to step up. They were not often penetrative as a team on Friday night and it's important for the playmakers not only to steer them round the paddock but also to make those little busts; the offloads and crack the defences.
Not necessarily so you can run in 80-metre tries but so you can dominate possession and territory and kick the penalties; typical finals football.
That's where the Blues have been worrying all season. They sometimes go missing up front and at other times are good.
It's the same with playmakers like Stephen Brett and Luke McAlister - they can be brilliant or awful.
Brett's kicking game is still not what it should be and he still makes you feel as if he is a step away from a bad error; a costly one.
McAlister did some good things on Friday night but there is still a big question mark over his defence.
He often shoulder-bumps people and, while that's fine, I do not think he has ever learned to tackle properly - and he sometimes goes in too high and gets pushed off.
Which is exactly what the Waratahs second five Tom Carter did to score the first try. Brett also does some clever things and has smart touches - but he often doesn't take the best opportunities when they are there.
It looks as though they will get some of their firepower back with the likes of Rene Ranger, Joe Rokocoko, and maybe even Isaia Toeava coming back ahead of schedule - and with others with niggles from Friday looking likely to play as well.
The problems they've had at lock have bugged them all season.
They have only been able to play their top combo, Williams and Boric, for three games all season - and they've had to do without other locks like Kurtis Haiu, Liaki Moli, Filo Paulo and Brad Mika ... all gone.
Chris Lowrey is a converted loose forward and not much of a lineout option and Pat Lam's contention that he'll add to the Blues mobility seemed to be said more in hope than anything else.
The Blues will have to up their tight game and their penetration to win the next one.