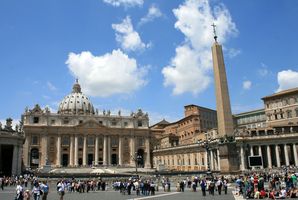 The Vatican is forming its own cricket team.
The team, to be called St Peter's Cricket Club, will recruit players from the 300 priests and seminarians from cricket-playing countries such as England, Australia, South Africa, India and Pakistan who live and study in Rome.
Officials are setting their sights high: they have already challenged the Church of England First XI to a match at Lord's next northern summer.
At a press conference to announce the team, cucumber sandwiches, a cricketing tea staple, were served with a pot of tea as bewildered Italian reporters inspected a bat and ball.
"We hope that some day we will have to translate silly mid-on into Italian, or maybe Latin," said Father Theodore Mascarenhas, an Indian priest and off-spin bowler who is the chairman of the club.
The team will play on an artificial pitch on the outskirts of Rome, and will wear the Vatican colours of yellow and white.