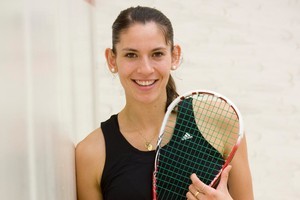 World squash No14 Joelle King produced a masterful display to defend her New Zealand Open title in Hamilton yesterday.
The Waikato player beat world No17 Jaclyn Hawkes of Auckland, 11-9 11-2 11-5 and the 22-year-old even surprised herself at the scoreline.
"I thought I was going to be a lot closer," King said.
"I played quite well and didn't let her have a snap at it. It's quite nice to beat someone that close in the world rankings in straight games."
The pair were gold medal winners in the women's doubles at last year's Commonwealth Games in Delhi.
"I've been home for the past two months and it's quite nice to see the things I've been working on put into match play and come off," said King who now plays tournaments in Malaysia and Singapore and is targeting the world top 10 rankings.
Earlier King had accounted for Waikato player Kylie Lindsey in straight games in the semifinals, while Hawkes beat Tamsyn Leevey of Wellington, also in three games in what was a solid field for both the men's and the women's tournaments for a national championships featuring a large number of internationally ranked players. The best of the women's world junior team members who depart for the junior world championships in the United States in just over a week was Megan Craig from Marlborough who reached the quarter-finals before falling to Leevey in five games.
North Shore's Martin Knight won the men's final. The world No47 beat No57-ranked Campbell Grayson of Herne Bay 11-6 11-7 11-8 in a repeat result from last week's Central Open.
Knight easily defeated Wellington's Evan Williams in the semifinals while Grayson downed Kashif Shuja in four games.