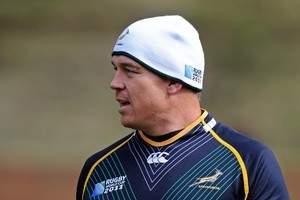 The morning after thumping Namibia 87-0 at North Harbour Stadium, the Springboks hit the reset button on the first phase of the Rugby World Cup. They are now in playoff mode, and will be treating the last Group D match of the World Cup against Samoa on Friday as a knockout match.
First, though, they will take a few days off, splitting up, heading off and looking for things to do around Taupo that are not rugby. John Smit secured the two days of leave by the simple method of announcing them at the post-match press conference, which brought a smile from the coach.
"I see John has given the guys a few days off. They deserve it," grinned Peter de Villiers. He will next see his players on Sunday morning at 7am as they take time out after three weeks in New Zealand.
"We will push the reset button now. As we speak we are pretty much into playoff rugby. We have to tighten up. We'll take the lessons we learned from Wales, our accuracy against Fiji and how we came right [against Namibia]," said Smit.
He was asked again about the prospect of playing Australia in the quarterfinal in Wellington at the beginning of next month. The victory by Ireland over the Wallabies has been the talking point of the World Cup.
"It will be foolhardy to look too far ahead," said Smit.
"We've got to make sure that we take one step at a time. I know it's a cliche and the last thing anyone wants to hear, but we have to stick to that. We had goals set for this game and we weren't getting them at halftime and we thankfully were able to change that. Samoa will be looking for a quarterfinal place as well. In this tournament if you start looking too far ahead you often get caught out."
Still, he did reflect on the Ireland win over the Wallabies and suggested that the Tri-Nations effort may have taken more out of Australia than they care to admit: "Ireland hadn't had a fantastic run-in in their warm-up games. It shows what motivation can do and what a group of guys who like each other and who enjoy their management can do. When you see a group like that, it's pretty dangerous. Australia have played a lot of rugby. They threw everything into the Tri-nations and they were probably a little more tired than the Irish, and Ireland came out firing and had too much to offer."
South Africa had too much to offer Namibia in the second half, and in the final 20 minutes in particular where they scored seven tries. In the first part of the first half, even the forwards got white-line fever and fancied a chance to fill their boots. Structure went for a loop, the direct play of the Fiji match was eschewed and the Springboks forgot they had to fight to go wide, even against Namibia.
"We weren't earning that right. You could see big boys hesitating to go in the ruck and looking around the side and we got that sorted out in the second half. When Fourie [du Preez] comes on he makes sure no one takes any chances. You end up going in the right direction when the little boss man comes on again.
"It was a frustrating first half and I was to blame as well. It's so tempting to get lulled into trying to have a go from everything. That's not how it is going to work in a World Cup. So the talk at halftime was simple. Playing like that is not going to take us forward. We have to pay particular attention to the breakdowns, get our numbers right and get our roles right. If we get the maths right, keep our structure then the result will come. I'm glad the guys reacted well, taking the first half into consideration, with the frustration we felt, it taught us a valuable lesson."
- INDEPENDENT