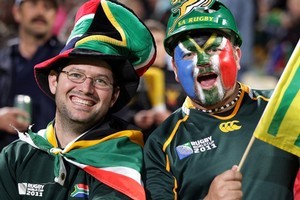 A colleague looked about upon entering North Harbour Stadium last night.
"Methinks we're in Little Johannesburg," he muttered out of the corner of his mouth as all around was a sea of South African jerseys, hats, scarves flags and painted faces which told an undeniable truth: this was Africa night over the bridge.
The stadium heaved with a near-full crowd - you'd wager very few from this country too. The fans must have known how the game would unfold, but no matter. This was more about the occasion - their team playing in their new homeland - than about the actual footy. South Africa's anthem was sung with gusto; Namibia's treated respectfully, but there were small pockets of support for their next door neighbours, little flickering flags in between solid walls of the rainbow colours. This was always going to be a game about margins - what constituted a good one for the defending champions; what would represent satisfaction for the country still chasing a win after 13 World Cup losses going back to 1999?
On that score it was South Africa's night.
In between periods of copping big hits, being outleapt at the lineouts and run over, Namibia did what country cousins are wont to do and hewed into everything.
Gusto was their calling card. Some of their defensive work was little short of heroic, but their line was leaking well before the end.
They had their moments. Flanker Tinus du Plessis was first to a loose ball and charged 45m up the middle without a hand laid on him; just before halftime quick hands had South Africa's defence hustling back.
But Namibia could not buy a trick from referee George Clancy.
His penalty count was 9-1 late in the first half in favour of the Springboks.
Their coaches were after accuracy and improvement out of this game, steps forward from the Fijian win last Saturday night in Wellington.
Keeping the foot down for the 80 minutes would be a good sign of intent, and they did - seven tries in a 19-minute burst late on proof of that.
It wasn't perfect by any stretch but there were plenty of quality moments, too.
Bryan Habana's try midway through the first half made him South Africa's top test tryscorer with 39, and it was his first since June last year; Morne Steyn ran - enough said - and gave his repertoire of kicks long and short a workout and kicked for goal at 100 per cent; at times there was pace and penetration to impress; and the pack flexed their collective muscles with a pushover penalty try.
A rousing, if one-sided night, but on that score there would be few complaints from this particular home crowd.