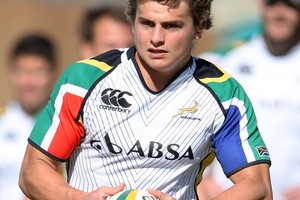 It is premature to compare Patrick Lambie to Superman, but for now a comparison with Clark Kent is apt.
"Mild-mannered gentleman" perfectly describes both, and while the green jersey the former pulls over his head is yet to produce the same results as Clark's blue suit, you have the feeling that it might just do that in time.
As a schoolboy, he represented South Africa at cricket and rugby and had six test caps by age 20. He'll have a few more to his name by the time he turns 21, just six days before the Rugby World Cup final on October 23.
Springbok captain John Smit predicts Lambie will one day lead the side and offers high praise.
"This is the one rugby player in the world that a father will welcome knocking on the door to take out his daughter."
Lambie's greatest attribute, though, is that none of the attention remotely ruffles his calm disposition.
On Sunday, for instance, he will be the man under the high ball with 15 All Blacks charging down at him, and when you put that to him he smiles calmly. "It doesn't bother me. I guess I am lucky that I don't really get nervous.
"I have never been a player that gets himself worked up before a game. My heart races a bit before my first kick at goal but generally I enjoy a bit of pressure. It helps me focus."
This will be his second start against the All Blacks and the first time he will wear the green-and-gold jersey in South Africa. He played off the bench on the November tour, then in July replaced Morne Steyn at first five-eighths against Australia before deposing him in the starting line-up for the match in Wellington.
It was a confusing week in the New Zealand capital because Lambie was announced in the team at No 15 but started at No 10.
"Well I think the plan was to confuse the All Blacks' preparations a bit," he says bashfully. "I was always going to play first five-eighths and I knew that early in the week. But this time I am definitely starting at first five-eighths. There is no ruse this time."
This time last week he was picked in the Sharks team at 12 to play Western Province, which will mean he will have played three different positions in three games (first five-eighths in Wellington, inside centre at Newlands and fullback in Port Elizabeth).
"It was a nice surprise to get the recall to the Springbok camp, and then to go straight into the starting line-up in my first test on South African soil has been an amazing development," he says.
Amazing indeed considering he has gone from playing the Leopards last weekend before a few thousand diehard Sharks fans at Kings Park to playing New Zealand a week later at a sold-out Nelson Mandela Bay Stadium, following the injury to Frans Steyn.
"Moving to fullback [from 10 in Wellington] is not an issue at all," he says.
The story goes that as a 15-year-old schoolboy, Lambie played little rugby because of an elbow injury, and the following year Guy Cronje (who has played for the Sharks) was the first five-eighths, so he moved to fullback for the first time. By the end of the season, he was in the South African Schools team. That year he went 18 kicks at goal without missing.
"I guess I was ultimately more of a fullback at school, but I have really enjoyed being closer to the ball at first 12 and then 10. I am really not fussed about moving between the three positions," he says. "I do not feel that I am being messed around because I am equally comfortable in all three."
Lambie admits that playing his first test at home will make a welcome change from the disappointment of the performances on the Baby Boks tour that brought defat in Australia and New Zealand.
"I am seriously looking forward to playing with all the senior guys after our experience overseas," he says. "It is a totally different squad and it is an honour to be in the mix with the senior players, it is a different experience and inspiring to be amongst these giants of our game."
The Boks are in danger of being whitewashed for the first time in Tri-Nations history, and Lambie does not skirt the issue.
"It would be an embarrassment. Nobody goes out there to lose. We want to get our respect back and get the win to give us some momentum into the World Cup," he said. "But it is going to be really tough against a side that we regard as being in no way weaker to the one we played in Wellington."
But Lambie will be at the forefront of the Springbok effort, make no mistake.
"I have so much to play for. I desperately want to be in the World Cup squad, as do my teammates, so in a way it amounts to a massive trial for all 30 players on the field, but for us it ultimately comes down to getting the result. We really need this win."