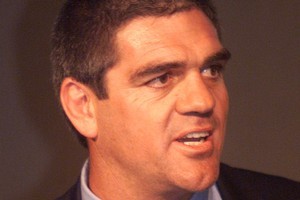 Southern Hemisphere teams will dominate the Rugby World Cup, says one of Europe's top coaches.
Three of the four semifinalists will be from the Southern Hemisphere, says Nick Mallett. And the coach of Italy makes a bold forecast. "Whoever wins the New Zealand-South Africa semifinal will be world champions.
"In the end, this will be a Southern Hemisphere World Cup," said Mallett, a former South African coach. "And I believe it is going to be a World Cup that will favour the teams that hold on to the ball and can put together a lot of attacking phases.
"I hope and believe it will be a better demonstration of rugby than the 2007 tournament when we saw all that kicking. Referees are now very strict on guys in front of the ball from a kick and are clearly trying to give as much space as possible to the team that wants to run with the ball.
"There is also a lot of focus at the breakdown on the tackler and assistant tackler. From all this we have seen better rugby played, even in some of the Six Nations games last winter. So I hope it will be an excellent World Cup in which the intention will be to play attractive rugby. I believe referees will be encouraged to help the attacking team and penalise negative play."
Mallett watched Australia's shock defeat by Samoa in Sydney last weekend but insisted he did not read too much into it. But he criticised the Australians for tactics that he believed played into the Samoans' hands.
"Australia turned down four penalties in about the first 20 minutes. They tried to play a fast, loose game, but that is no way to go against Samoa. We beat them 24-6 when we last played them a year or two back. And you have to be specific against them. It suits Samoa down to the ground if a side attempts to play a loose, unstructured game against them. Anyone that runs at them they will smash to the ground.
"You have to play them the way the South Africans use."
The Springboks could be expected to launch rolling mauls from 70 per cent of their lineouts against the Samoans when the two countries meet in Pool D of the World Cup at North Harbour Stadium on September 30, he said.
"They will do 15 or 20 drives and by doing so, they will suck in the Samoan forwards and tire them out. Then, they won't be all over the field ... as they were against the Wallabies.
"You must use the box kick against the Samoans, too, and the Springboks have two halfbacks who will do that - Fourie du Preez and Morne Steyn.
"They will scrum them hard too. The Samoans don't like working hard or running back in defence. So that is what you must make them do."
The Australians were "never up for it", in Mallett's words. So he refuses to read too much into the game, despite believing that it will be Wales, who favour a looser attacking game, who could be in real danger when they meet the Samoans in Hamilton.
"If the Samoans are physical on the day then they could be awkward opponents for the Welsh," he says.
Mallett is preparing Italy for World Cup warm-up games against Japan on August 13 and Scotland a week later.