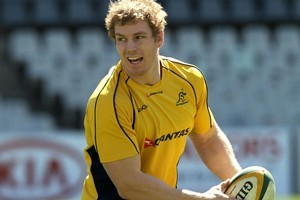 For many seasons, the duels between Richie McCaw and George Smith were golden tussles.
Two men imbued with strong athletic gifts, a great range of skills, courage, vision and unquestioned work ethics, the breakaways were without peer in world rugby.
Smith has taken his leave pass from the top-flight game, while McCaw is still in his pomp and almost on the verge of a century of tests and a third World Cup campaign.
But another Wallaby is on his case, Zimbabwean-born flanker David Pocock.
The man who carries the nickname BamBam made his test debut against McCaw and the All Blacks briefly from the bench in Hong Kong in 2008.
That tour proved a useful test apprenticeship for Pocock as he took in all the tips he could get from Smith and Phil Waugh. It was a case of coach Robbie Deans identifying his future hopes.
A year later, Pocock started six tests, including the bulk of the Wallabies' end-of-year tour.
Deans and Smith knew it was time for the the handover of the No 7 jersey. Smith was completely unselfish about the transfer.
"One of the things about being part of the Wallabies last year was the relationship George Smith and I had where whoever was starting and whoever was on the bench, you know, there were no hard feelings and we'd sort of work together really well," Pocock said.
When Pocock was picked to battle the All Blacks last season in Tokyo, Smith was first up with the congratulations.
"He just said 'mate, if you've got any questions or you want help with anything this week, anytime'."
Pocock is part of a new breed of young Wallabies. Men such as Ben Alexander, James Slipper, Ben McCalman, Will Genia, Quade Cooper, James O'Connor, Rob Horne - a bunch of talent growing towards the next World Cup.
It is "generation next" as Pocock calls them.
They were some of the players Pocock talked to at the end of last year, when he suggested they'd had their first hit of test rugby and needed to show their talent during the Super 14 series.
He got some strong responses while his own output was interrupted for some time this year by a hand injury. He returned to full fitness with impressive form.
His work last week in Bloemfontein against the Springboks was reminiscent of McCaw, the way he stalked the ball at the breakdown and plundered some precious turnovers.
While many of the top opposition, some coaches and even referees have questioned the validity of McCaw and his breakdown practices, Pocock admires his rival's clout.
On the other side of Sydney, McCaw was equally laudatory of his much younger opponent. He was getting very close to Smith's class.
"Not far off, to be honest," McCaw said.
"At the breakdown he has a good idea of how to have an impact. He's a strong character, has physical presence. The tests we've played we've had to make sure we keep him under control."
That is a big rap from the All Blacks and a bloke who has been prime quality since his test debut in 2001. McCaw will play his 89th test tomorrow and would have figured in man-of-the-match calculations in the bulk of them.
Pocock knows why and studies all the nuances and attributes of his vaunted rival.
He loves the way McCaw is able to make an impact in ways which appear to break the law, but go unpunished. While many grizzle about it, Pocock admires and aims to emulate.
"Richie has been up there for a long time," said Pocock. "He's very smart and very good about the way he goes about his game, playing to the limits, which is what every No 7 should be doing.
"He is smart and good at reading the play at the right time. The key is how he reads refs.
"A lot of people think he gets away with stuff, but it's the way he plays right to the edge. Good on him."
Hell. Mutual admiration from a rival flanker - and an Aussie too. Mind you Pocock was born in Zimbabwe and emigrated with his family to Australia before John Mitchell picked him for the Force as a 17-year-old.
Pocock deflects talk of his impressive display in Bloemfontein to the work of his support players.
"I had more of a focus on picking and choosing when to go into rucks, knowing the guys were around me, rather than being so single-minded about stealing the ball," the flanker said.
He also knows the Boks did not have a man like Richard Hugh McCaw in their ranks.
"He is world class," Pocock said. "He has a high work rate. I really enjoy playing against him."
THE CHASING PACK
Schalk Burger
Like Richie McCaw, the blond Bok is perhaps a tad slower than in his prime - and he's a tad slower than out-and-out flyers such as rising Wallaby David Pocock. But Burger reads the game perfectly and carries more bulk and menace than most into physical collisions.
Heinrich Brussow
Took the mantle of premier Bok ball scavenger from Burger and was touted as the heir apparent to McCaw until injury ruled him out of 2010. His return for the World Cup next year will be crucial to the Bok fortunes.
Thierry Dusautoir
The Frenchman wears the No 6, but generally plays on the openside in the often dynamic French loose trio. He was immense as the All Blacks exited the last World Cup in Cardiff.
David Wallace
The Irishman would look out of place in the frenetic game played in the Southern Hemisphere, but his combative style suits the northern way. The indefatigable loosie will be 35 by next year's World Cup but, like a good stilton, he gets better, and slightly smellier, with age.