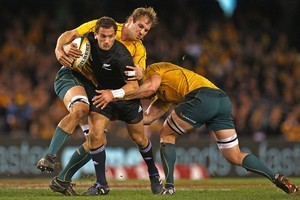 Aaron Cruden's swift rise to the All Blacks is a remarkable story for someone so young.
It is even more arresting after his scrap with cancer. No wonder the 21-year-old identifies Lance Armstrong's autobiography as an inspirational and favourite read.
Cruden will need all Armstrong's mettle when he suits up for his first test start in the No 10 jersey against the Wallabies next month. He has played very little rugby in recent months.
He has soaked up the All Black environment, watched how Daniel Carter prepared and controlled matches but played only 40 minutes of test rugby in five appearances from the bench. Tack on half a trial game for the Manawatu Turbos and it's clear Cruden needs a game this weekend.
He will play against Hawkes Bay on Sunday but will then be put in cotton wool for rounds six and seven to be ready for the September 11 test against the Wallabies in Sydney.
The All Blacks do not want to risk any mishaps for their deputy five-eighths as Carter recovers from his ankle surgery.
They have also promised to pick a backup for Cruden in Sydney. Who might that be?
Forget Stephen Donald and Mike Delany. Both are injured and some weeks away from resuming duty in the national championship.
That leaves Luke McAlister, Stephen Brett and Colin Slade and the stopgap possibility of Piri Weepu. Do not discount a wildcard choice either from an All Black panel which has chucked in a few since their 2004 ascension.
The selectors will have a template for a five-eighths they want to run their test game plans. They will sift many contenders, looking for someone with a mix of certainty and flair who can organise a backline and has the confidence of his teammates.
McAlister has been picked before, too hurriedly on his return to New Zealand last year, while he was told to go away this season and put in some hard yards in the national championship. He has been playing second five-eighths in that contest, as has Brett, while Slade has occupied the pivot duties for Canterbury.
Weepu could be used as a reserve five-eighths for one test on the basis that Carter will recover for the end-of-year tour. That would be a risk on many fronts unless the selectors also picked another halfback for Sydney.
Wildcards. What about Cory Jane? He has shown such versatility since he came into the All Blacks that you suspect he would be a very sharp five-eighths. He has speed, great hands, a gift for the unexpected, kicks strongly, can run a game and is a very capable defender - a collection of skills which suggests No 10 prospects.
Remember the Boks have a wing who plays halfback and vice-versa. What's wrong with Jane breaking another mould?