Maori rugby's centenary has coincided with claims of cheating and influenced results. Michael Brown reports on a new allegation and on how Maori have been central characters in New Zealand rugby.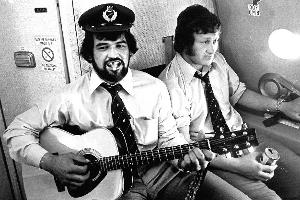 Billy Bush is adamant he was unfairly targeted in a decision that cost the All Blacks victory against South Africa in 1976 - because he was Maori.
It was in the last minute of the fourth and final test at the end of the long tour of the Republic when South African referee Gert Bezuidenhout blasted on his whistle and awarded a penalty for the home side for an infringement in the lineout. Bezuidenhout identified Bush as the culprit.
The big prop was incredulous but his protestations mattered little as Gerald Bosch kicked the penalty to hand South Africa a 15-14 victory and a 3-1 series win.
He feels now he was pinpointed because he had been deliberately provocative throughout the tour, trying to get up the nose of the establishment who clearly resented the presence of a brown player in apartheid South Africa.
"The refs cheated," Bush says. "We should have drawn the series, for sure.
"They couldn't get me on the paddock - I got roughed up a little bit but it didn't hurt - but that last penalty went against me for obstruction in the lineout. I was nowhere near the ball.
"I was bitter about being blamed for the last penalty. They very definitely got me in the end because they targeted me in particular. When you look back at the game, I never did anything. I am still brassed off about it."
Bryan Williams was also on that controversial tour. The great wing had played as an honorary white on the 1970 South African tour - it's a term Williams dislikes, saying instead that he was a Samoan who represented the All Blacks - and remembers they received a number of dubious calls against them throughout the tour.
"The referee who awarded that penalty [against Bush] came and saw us off from the airport the following day," Williams remembers. "We had him on about not only that decision but a lot of them he made throughout the tour.
"He said to us, 'listen boys, you can go to your home, I have to live here'.
"I wasn't aware at the time that Billy was targeted but generally the decisions went against us because apartheid was at its height back then and the Afrikaaner nation had to be seen to be superior."
They certainly couldn't lose to a side that contained Maori.
There were five Maori in that touring side: Bush, Sid Going, Kent Lambert, Bill Osborne and Tane Norton.
They were central characters throughout, even before the tour left these shores, and Bush said he came under pressure from activists like Trevor Richards and John Minto to pull out of the tour.
"It affected me hugely," Bush says. "Richards and Minto were on my case about going to South Africa. But I had busted my guts to train. I had run around the hills [of Christchurch] in cold southerlies. My aim was to go around the world with the All Blacks because I wouldn't do it otherwise.
"I wasn't aware of what was going on in South Africa at the time but people tried to stop me from going. I worked at the freezing works in Belfast and the union kicked me out. I said I didn't care because I wanted to find out what it was like myself. I believe I contributed to the tearing down of apartheid in South Africa by being Maori and not signing on as an honorary white."
Even as the All Blacks left country, they had to be driven over the tarmac to the plane at Auckland airport for their own safety. They then weren't allowed to land in Australia, meaning they travelled via the US, Athens, Lisbon and Abuja.
"Athens, man," Bush says with a chuckle. "Not bad for a Maori boy."
It was during that journey that All Blacks coach JJ Stewart brought up the issue of the haka. He said to Bush the South Africans didn't want them to do it. Bush said: "We're doing the haka or going home."
They did the haka.
Throughout the tour, Bush was provocative. He invited black girls to official functions to aggravate Afrikaners saying they were "Maori girls from Rotorua". He repeatedly made his way into the hotel kitchens to meet the black workers, ventured to East London to mingle with blacks despite knowing it was frowned on, and went to white areas at night to defy the curfew which forbade non-whites in the city at night.
"I went out of my way to be deliberately provocative," Bush says. "I was darker than the other players and always had it in the back of my mind that it was not their favourite colour in South Africa. There were many incidents on and off the field.
"The South Africans were out to get me in every game. But I hated them, too. The game in Uppington [when the All Blacks beat North-West Cape Invitation XV 34-17] was the worst for thuggery. But I wasn't prepared to stand back. A lot of it was self- defence. She was pretty rough at times. They were blatantly out to get me."
Remarkably, Bush played 15 games on that tour, including nine consecutively in the space of 28 days as his fellow props were beset by injuries. He was given a rest towards the end of the tour before playing the fateful last test in Johannesburg.
It ended an All Blacks tour that is still talked about today. Although it was an All Blacks tour, Maori played a central role throughout and it wasn't the only controversial incident in 100 years of Maori rugby in New Zealand.
New Zealand Maori were officially formed in 1910, and played their first game against the Rotorua sub-union before going on an 11-match tour of Australia.
The team's origins, however, can be traced back to the New Zealand Natives side which toured New Zealand, Australia, Egypt and the British Isles in 1888. Originally the side was intended to consist of Maori only because of the fascination the British had with indigenous cultures, but five 'whites' were added to bolster the side's playing strength.
It was an exhausting tour. The Natives played 107 matches in 14 months, averaging three games a week, but still won close to 80 of those.
They are credited with having introduced flowing, running rugby - synonymous with Maori rugby - and this was highlighted by the fact they kicked just four penalty goals on the entire tour. At times the opposition also fielded 16, 17 and even 18 players to make a game of it.
The tour also featured the first haka by a rugby team, when it was performed in front of 50,000 in Surrey. The British press ridiculed it, with one journalist writing it was "a whoop in the vernacular which caused great amusement".
The next attempt to form a Maori side occurred in 1904 when Rotorua Maori invited the touring British side to a game. The Maori side won but it wasn't recognised because it wasn't deemed an official game.
That first happened in 1910 when the NZRU sanctioned an Australian tour. Malcolm Mulholland wrote in Beneath the Maori Moon: An Illustrated History of Maori Rugby that it was partly done as a way to try to stop the exodus of Maori players to rugby league, which was professional.
Regular tours both in New Zealand and overseas featured on the rugby calendar but the first time race became a serious issue on the field occurred in 1919, when South Africa demanded Maori be excluded from the New Zealand Forces side due to tour the Republic.
The South African Rugby Football Union determined that if Maori were allowed the tour would be "wrecked and immense harm politically and otherwise would follow". In the end, Sergeant Nathaniel 'Rangi' Arthur Williams, an All Black who had played 10 tests, remained on the boat when the team berthed at Durban.
Greater controversy surfaced in 1921, when the touring South Africans played New Zealand Maori for the first time. The Springboks won 9-8 but there were a number of contentious decisions throughout.
They hardly endeared themselves to the opposition and fans at Mclean Park when they took the field five minutes after the Maori, turned their back on a group of poi dancers before kick-off and refused to shake the hands of their opponents.
A cable by South African correspondent Charles Blackett also stated the Springboks were "disgusted" not only to have to play a team of natives but also watch as thousands of Europeans cheered them on.
In the stands that day was a young boy who not only shaped Maori rugby but New Zealand rugby.
George Nepia never forgave the NZRU for omitting him from the 1928 tour of South Africa.
The NZRU agreed to leave out Maori players after an appeal from South African prime minister JB Hertzog, who said having indigenous players in the side would cause great embarrassment.
The NZRU, for their part, justified the decision by saying they wanted to protect Maori from incident.
Nepia found this upsetting.
"Most of all, perhaps, we were saddened, disappointed and humiliated by the attitude of the body, namely the New Zealand Rugby Union, which purported to be our guide, philosopher and friend," he said in 1963.
Similar arguments were made in 1949 and 1960, when Maori players were omitted again, denying many like JB Smith, Vince Bevan (both 1949) and Pat Walsh and Stan Hill (both 1960) the opportunity to further represent their country.
The issue was partly circumnavigated in 1970 when Maori players Buff Milner, Blair Furlong and Sid Going and Bryan Williams, who was Samoan, toured as 'honorary whites' but it did little to appease the growing protest movement against sporting tours of the Republic.
Some, like Ken Gray (retired) and Bob Burgess (declined All Blacks trial invitation) decided against touring in protest, while others like Chris Laidlaw and Earle Kirton both agitated for change while on tour.
"For me, it had nothing to do with that political rubbish," Going says. "We were just glad to be playing. It was a wonderful tour. The hospitality was absolutely fantastic. Me and Bryan Williams were treated better then most, probably, because we were there and everyone in the back of the grandstand, every coloured person, took to us."
The 1973 Springbok tour to New Zealand was called off by Prime Minister Norman Kirk to avoid a growing political storm around the world and the proposed 1977 New Zealand Maori tour of South Africa was also cancelled. Of course, the controversial tours of 1976 and 1981 went ahead amid widespread protests.
The New Zealand Maori have claimed some major scalps over the past 100 years. Australia, England, British and Irish Lions, France, Argentina, Scotland and Ireland have all been beaten at various times and arguments still rage about the fact they should have upset the Springboks in 1981 but were denied when the referee incorrectly awarded a late dropped goal that, to most, clearly missed.
Throughout, the Maori have been known as a team who liked to throw the ball around. They were entertainers both on and off the field and played with a freedom not always seen in New Zealand rugby.
There have been some great players who have donned the Maori jersey - Nepia, Buck Shelford, Waka Nathan, Tane Norton, Going, Stan 'Tiny' Hill, Carl Hayman and Hika Reid among them.
Bush maintains playing for New Zealand Maori took precedence over even the All Blacks.
"It was my No 1 priority," he says. "I didn't care if I played for anyone else but New Zealand Maori. It was a totally different set-up to the All Blacks. It was more about us as Maori people. The way we thought transferred to the game. The spiritual influence was very important.
"The All Blacks can be quite cold, quite clinical and focus on the individual. For us it was about doing the haka, singing songs. We were a very close unit and that was important - although, sometimes we were too close and might not have gone into the game in the right mindset."
Many of these players will be honoured during the centenary celebrations and many highlights and controversies re-lived. It will be a time for reflection but also a time to contemplate the future.
Maori rugby has taken a backward seat in recent years, including 2009 when the team was inactive because of NZRU budget cuts.
The question now is what will it look like after this year.
Next week - the future of Maori rugby