Auckland Rugby Union chief executive Jarrod Bear, now four months into his role, talks to Campbell Burnes about guiding the nation's largest union through challenging times.
What's been the major focus for you since October 1?
First and foremost it's been about getting some insights and making observations. Without good insights, you can't make good decisions. It's been a learning process and engaging with stakeholders. Now it's about distilling that feedback and driving a strategy off it so we set up for future success and making Auckland a really strong union.
Do you and your board have any specific vision for Auckland both on and off the field over the next few years?
We need to excite and engage Aucklanders through rugby. The three strategic areas we have to focus on are:
1. Our high performance and representative programmes, which are ultimately set up to drive Mitre 10 Cup performances so we can win out here on the grass at Eden Park;
2. We need to make sure our community game is strong, in playing, reffing and coaching. We'd like to grow the depth we have in that coaching area, particularly, because they have an amazing influence as to whether players want to turn up the next season;
3. Being commercially and financially prudent to ensure we can sustainably invest in developing high performance and community rugby.
Your predecessor (Andy Dalton) had a relatively low profile. Are you comfortable being seen more in the public arena and media?
Not sure it's about profile for me, but it's ensuring that I'm promoting the positive messages that Auckland Rugby has to communicate. Often we are judged on what happens in the Mitre 10 Cup, which is our shop window, but behind the scenes there is a strong contingent of people that are driving some great results and activities. There are lots of stories that Auckland Rugby needs to be communicating. In our schools and clubs, Auckland Rugby facilitates over 10,000 games of rugby per season. It's mind-blowing the amount of work that goes in to achieving that and having a great rugby experience for everyone that is involved. That sometimes gets forgotten. We've got 21,000 registered players (as of 2016), over 1500 registered coaches and 170 registered referees. We saw an increase of 3 per cent on our overall participation numbers, which was a really good result. That's the first year in five that we've had growth.
The size of Timaru's population is the amount of people playing in Auckland.
Club rugby is obviously close to your heart. We hear of the challenges clubs face, so is this very much a target area for Auckland Rugby?
We've invested in a club capability manager (Barry George), who goes around clubs helping them to have the right administration and structures in place to facilitate the game in their community. That's made a big impact and will be a never-ending resource we need to put back into those clubs. But if we look at the likes of Suburbs, College Rifles and Pakuranga, for example, they are at the forefront of driving good community initiatives. We are investing a lot into primary and secondary school rugby, so we need to be more engaged in linking up with our clubs through our RDOs.
Some see the demise of the under-21 grade as sad, but under-20 is now the flagship junior grade.
This was a process driven through the council of delegates. With that, there has also been the inclusion of an under-20 U85kg grade, which provides for those who are not the biggest in the world to still play rugby when they leave school. For those clubs who still have the numbers, COD chairman Stu Mather has collaborated with Counties Manukau to have under-21 teams playing in a cross-provincial competition.
Where is the union at with its First XV TV plans?
Over the last two years, Auckland Rugby has invested, with the schools, in that product, but we haven't been able to generate revenue to offset the costs. At this stage, it has not quite been resourced to do that.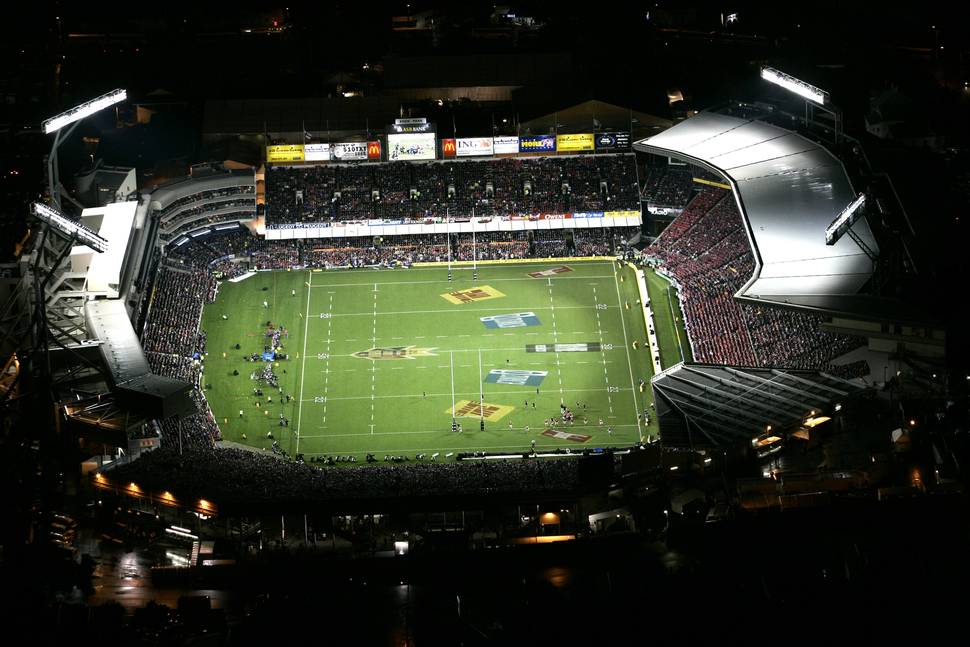 New Zealand Rugby sees the wider Auckland area as being strategically important, so are you having dialogue with your North Harbour and Counties Manukau counterparts Brett Hollister and Andrew Maddock?
Absolutely. There is a wider Auckland strategy team, which gets together on a frequent basis to discuss opportunities for alignment. One of those is aligning all the grades across the secondary school space, so they are consistent with the three unions. That change will take place in 2017. We are discussing how we can grow participation numbers where there is commonality.
The Blues and Auckland have not had a close relationship in recent years, mainly at board level. Would you like to see that change?
I'm not in a position to comment on the past. But in terms of going forward, myself and (Blues CEO) Michael Redman have met on a couple of occasions and had positive interaction.
I can also say that our operation team has a strong relationship with the Blues. We provide all the match-day delivery here at Eden Park and (respective high performance managers) Ben Meyer and Tony Hanks work well.
There were challenges in the 2016 Mitre 10 Cup with gelling Super Rugby players and club talent, but the union will be disappointed with sixth. Did anything come out of the review that signalled major change was needed for 2017?
For us, we have a big opportunity to improve on that and take out the silverware.
Nick White and Bevan Cadwallader are both contracted and on deck from now right through to the Mitre 10 Cup. They came on board around June/July last year. Everybody is aware of the expectations and what we are committed to, and now it is about delivering.
Good to have the Battle of Bridge back on as a regular fixture?
It is. We are at QBE Stadium, though the draw is draft at this stage. It's been at least 3-4 years since we've had it. Harbour are on the rise, which is healthy for the Auckland region.
Playing at Eden Park is nice, but the crowd numbers are a struggle and my understanding is that games are often run at a loss. Has the board looked at possible other venues from 2018?
I'm not sure where your information has come from in terms of losing money, because that is not quite correct. But Eden Park is the premier ground in New Zealand, the home of rugby, and for us it is a privilege for the Mitre 10 Cup team to play there.
What we'd like to do is explore the possibility of playing day games out on Eden Park No2 and creating a boutique atmosphere, which can be supported by fun and games for the kids.
We'd love for it to happen in 2017, but that is dependent on the draw confirmation from New Zealand Rugby and working with Eden Park to see if it is possible logistically to make it happen in that period.
I know Auckland Rugby is proud of some of the unsung work that goes on in the Pro Sport programme and the international academy.
Yes. I was fortunate to attend the achievement ceremony of the Pro Sport class of 2016 and there were a lot of young men and women who had come through that. I'm looking forward to their future development. Aunty (Shirley Syman) and Danny (Gautusa) do a fantastic job with them all.
The international academy (under Ant Strachan) is going from strength to strength, now in its third year of operation. This year we are seeing some really solid numbers come through. We've got a full house and 58 student are part of that programme.
Do you see women's rugby as very much a growth area, especially at the critical schoolgirl level?
We do. Last year we had growth of more than 14 per cent, which we would like to see exceeded in 2017. We've got Katie Tahana, who is driving that space as the women's rugby co-ordinator. So that's exciting for us.
Auckland Rugby was fined $3000 last month for fielding an ineligible player in the women's sevens team. An administrative error as opposed to an attempt to deceive?
We take full responsibility for it ... it was an admin error. It was a perfect storm in that all the bodies who had to contact each other at a specific point in time were all out of contact. It certainly wasn't any attempt to pull the wool over anyone's eyes.
Are the coffers solidly in the black for the 2016 year?
In 2016 we had a positive return on our debit level, which is great.
We want to continue being commercially and financially prudent because if we are successful within that space, it allows us to continue to reinvest in rugby and growing rugby for people to enjoy their experience.